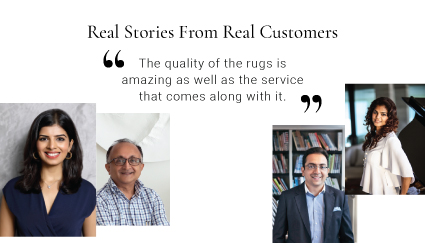 Buy Handmade Area Rugs online at an affordable price in AU
Looking for handmade rugs to add to your home? Area rugs are one of the easiest ways of adding a lot of character, color, texture, and dimension to your home. It transforms your space without overwhelming it and also helps in muffling noise, providing underfoot comfort, and protecting the floor. Based on color, material, size, and design, you can pick out the rug that suits the personality of your space the best, without slashing your pocket. At Jaipur Rugs, we bring Indian rugs to Australia for you to have a one-stop destination for all kinds of rugs. No matter what the decor theme of your home or what color palette you like the best, you can be assured that with Jaipur Rugs, your carpet flooring will never be boring. With the help of some expert advice, you can buy handmade rugs online without any hassle and give your home the makeover it needs.
Explore a Wide Range of Styles at Jaipur Rugs
Jaipur Rugs prides itself in offering some of the most diverse and wide varieties of style and design when it comes to rugs and carpets. From high-end silk and wool oriental rugs to more budget-friendly natural rugs, you will find something for every taste, in every price range. You may have gone from one carpet store to the other looking for that specific design in a specific color you have in mind but found none that suit your style. Whether you are looking for a blue carpet for your living room or a grey carpet for your home office, you will find the rug of your liking at Jaipur Rugs in just a few clicks. We also offer you the unique option to make your own custom rug with one of our weavers in India. Our artisans are the core of our design ethos and they help us preserve the age-old tradition of rug weaving with their impeccable skills, inherited from their ancestors. When you customize a rug with Jaipur Rugs, you can create the rug of your dreams for the space that is unique to you, right from the material to the color, size, and design, you can. You can also customize the size of a rug you like before buying rugs in Australia . Why go looking for carpet shops near me when you can find the carpet of your dreams right here at Jaipur Rugs?
Why Buy Rugs Online at Jaipur Rugs?
Jaipur Rugs is not just a rug manufacturing company from India. It is a family's blessing and that is what we bring to you in the form of handmade rugs. We deliver your rug safely to your doorstep, no matter where you are in Australia, Sydney or Brisbane, Perth, or Canberra. Jaipur Rugs Australia offers free delivery in Australia, a 30 days hassle-free return, and only impeccable, handpicked carpets.
Read More