Ultimate Guide to Decorate your Home with Living Room Rugs
A beautiful home is an ensemble of a well-decorated living room, along with other bedrooms and patios tied together in uniformity. If you wish to draw the attention of your guests to your beautifully done living room, you can add exquisite carpets and rugs to your living room space. A neatly placed living room rug with the color and pattern of your choice will instantly set the tone of your décor.
The living room is the heart of any home, so it must be comfortable and appealing. A carpet is the one item that can have a significant impact on both the aesthetic and the comfort of your living room. Even if some homeowners prefer laminate flooring to traditional carpet, current carpet designs still have a lot to offer. Indeed, carpets for the living room are an excellent method to update your living room without breaking the bank. Today, we bring to you an outstanding choice of trendy and long-lasting living room rug ideas that you can use to transform your living room.
Your living area should be both alluring to the eyes and comfortable. Carpets provide a more comfortable alternative to hard flooring surfaces. They also provide the required warmth for the cooler months. After all, who doesn't enjoy the coziness of walking on soft, luscious carpeted floors? Do you also have children running around in the house? Or perhaps some senior citizens who are prone to slipping and falling? Well, in that case, carpets are great for preventing any such unintentional trips, making them an excellent choice for homes with such delicate residents.
Let us look at some interesting ways in which you can décor your home with living room carpets.
1. How to decorate your home with living room carpets
Carpets must be included in your living room after you've spent so much time and effort decorating your space, from flooring to furniture and accessories. Why? Because a great carpet may make the furniture and the rest of the living room work together in harmony. The best thing about carpets is that they may improve the aesthetic of a room even if there isn't much furniture in it. The correct carpet can turn a drab space into a colorful one, give plain rooms a little bit more, and balance out clashing components in your home decor. This is what we mean when we say that you should brighten up your living area. With so many designs and colors to select from, there's no limit to how creative you can be when it comes to designing dreamy interiors.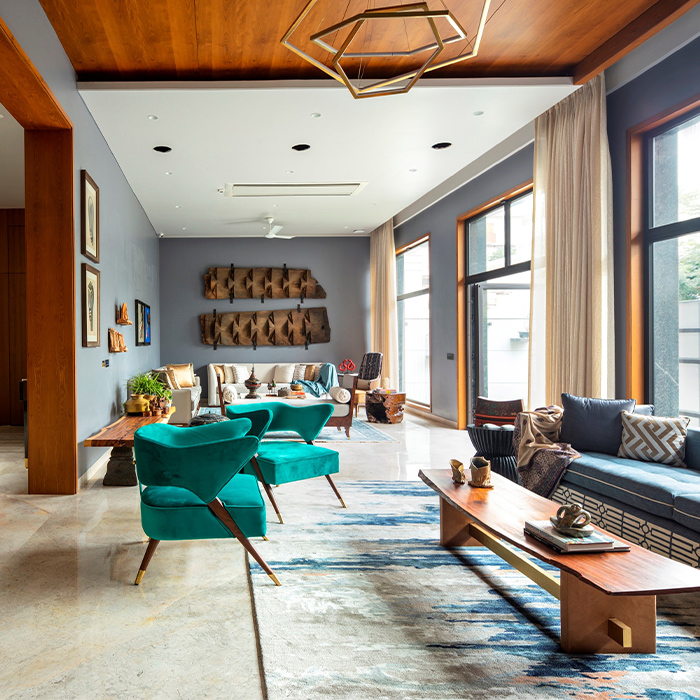 2. Benefits of carpets for living room big size
A carpet or rug instantly changes the look and feel of your area by providing definition, warmth, and color; now is the moment to narrow down the size you desire. A huge carpet will overpower the area, giving a sense of claustrophobia, whilst a smaller one will blend in with the other ornamental details. An excellent place to start is with the table and the furniture. A larger rug that fits all of your furniture is a magnificent event, or simply stop the carpet a few inches before the sofa. The perfect size and colour rug will be a wonderful discussion starter and focal point.
3. Use of floor carpets for living room
It's not enough to just style the furniture in your fantasy living room to enjoy it. It's just as crucial to style your floor with care. That's why we've put up a collection of attractive carpet designs for your drawing room. When it comes to choosing living room carpets, one's lifestyle should play a significant role. If the living room is mostly used for entertainment, an attractive beautifully woven rug is perfect. A more relaxed, less formal carpeting is appropriate for a family-friendly living area.
Article Related to Living Room rugs

4. How to use big carpets for living room
When choosing a carpet for your living room, make sure it fits the space. Most designers will give a carpet large enough to cover the entire living room floor. The size of the seating area in the living room can assist establish how large the rug should be. The living room area rug, whether placed in front of or on top of the sofa and chairs, can assist define the seating area. It is entirely up to you and your decorating style whether the sofa or chair legs sit on top of the rug or not.
5. Decorate living room with modern living room carpets
The living room, more than any other room in the house, necessitates the most attention to detail when it comes to interior design. It is an area that is utilized on a regular basis, whether for watching television, spending time with family, or simply unwinding on the couch after a long day. With the aid of the most amazing modern area rugs, create the ideal living room design. If you have colorful furniture and clean lines in your modern décor, area rugs with styles are a great way to bring in some brilliant colors. Dark-colored furniture in the mid-century style will give the room a terrific and stunning look. The dramatic pattern for the carpet was an excellent choice for changing the look of the living area. The living room carpeting may have a subdued graphic print to accent the great furniture.


6. Decorating home with traditional living room carpets
Colors, textures, and dimensions are harmoniously blended in the most attractive homes. To make a statement in a living area with a neutral palette, let your creativity run wild with wildly colored and chaotic themes. Choose gentle pastels and earthy tones in a living room with elegant heritage cutlery and traditional artwork to generate warmth and depth without overshadowing the other dominant pieces. After you've limited your choices, think about your budget. Hand-knotted carpets are highly appreciated and valued works of art manufactured by professional artisans through a precise labor-intensive weaving technique. The amount of knots per square inch determines the rug's fineness. You can choose a unique handmade rug to grace your floor, a one-of-a-kind piece of functional art that takes pride in place in your home, depending on your budget. Because of the natural materials and dyes used, there will be small colour variations, as with other hand-crafted pieces, which adds to their appeal. Weavers are master designers of their own. Reversible, loom spun flatweave rugs, on the other hand, are more inexpensive and lightweight. Machine-made rugs provide consistency and accuracy for customers seeking exact symmetry.

A carpet or rug changes the look and feels of your home in an instant, giving definition, warmth, and color. With these unique ideas, you can easily transform the way your living room appears. It is important to instill some magic into your living room and this can be easily achieved by living room rugs. Whether you have traditional, mid-century modern, transitional, contemporary or bohemian home décor—living room rugs and carpets are the best way to take the attention of your guests to your living room. So, what are you waiting for? Go, grab a good collection of living room carpets for your home today.
Pic Credits
Jaipur rugs / Abil Dase
Related posts