You are on our France website. Please select your region to see content specific for your location.
Flat-Weave
The Weaving Process
In essence, a flatweave is a thick cloth made of cotton or wool. A Dhurrie is a flatweave from India, while a Kilim is from Persia. These rugs are woven by interlocking warp and weft threads, similar to making textile. They are mobile, versatile, durable and cost-friendly which gave way to a large range of weaving patterns, designs and colors.

The rug has no pile and is only a display of the interlocking, and creative methods can be used to give a patterned look to the rug. This is either done by using different sizes of threads, changing the colors of threads or using unique styles of interlocking. It is not made on a loom, and is extremely flexible and versatile, used both indoor and outdoor and is even an easy travel partner. Flat weaves take 2 months to craft, and comfortably last for over 10 years.
The Rug

How to Identify?
With their woven construction, these rugs are flat, don't have a pile and are predominantly reversible.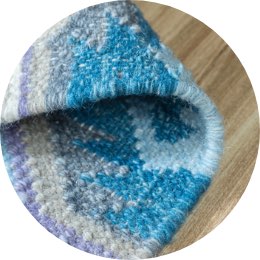 Pile Height
Flat, no pile.
Durability & Intricacy
Product life of 10+ years. Wide range of designs that are moderately intricate but can also have more creative variants.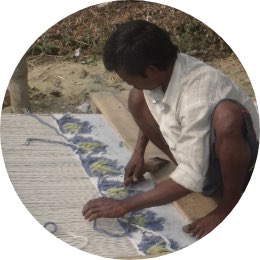 Weaving Technique
These are made by warp and weft threads on a loom.

Ideal space
Can be used Indoors or Outdoors
Pros
Common fibers in flatweaves include wool, jute, and cotton. Great durability and toughness. A nearly unlimited variety of patterns and colors.
Cons
Slippery on floor as it is very thin so need to use rug pad, No pile so it feels coarse on the feet.