You are on our United States website. Please select your region to see content specific for your location.
Jugalbandi, by Lorenzo Vitturi
'Jugalbandi' was conceived from an invitation from the Jaipur Rugs Foundation to create a series of tapestries in Rajasthan.
In Hindi, Jugalbandi means "intertwined twins", a word used to indicate a musical performance between two soloists who play simultaneously", and is here used to describe the creative dialogue that took place with the foundation and with the local weavers.

Lorenzo was captivated by the random sculptures that village life unconsciously creates in rural India and started an unconventional collaboration from London. Abstract forms in photographs he collected are transformed into graphic fragments, and juxtaposed to create a collection of organic multilayered figures. There are areas weavers could intervene during handcrafting, not only with their technique but also their own vision and ideas. With a motley of transcultural materials, each tapestry in 'Jugalbandi' is an excursion in aesthetic, taking one through a journey in experience, as well as design philosophy.

About Lorenzo

Lorenzo Vitturi (b. 1980, Italy) is a photographer and sculptor based in London. Formerly a cinema set painter, Vitturi has brought this experience into his photographic practice, which revolves around sitespecific interventions at the intersection of photography, sculpture and performance. In Vitturi's process, photography in conceived as a space of transformation, where different disciplines merge together to represent increasingly complex urban realities. Vitturi's latest solo exhibitions have taken place at top galleries in Amsterdam, London, Toronto, Luxembourg and in New York. He has also participated in many group exhibitions across the world and has a photo-book titled "Money Must Be Made", in collaborations with Nigerian writer Emmanuel Iduma.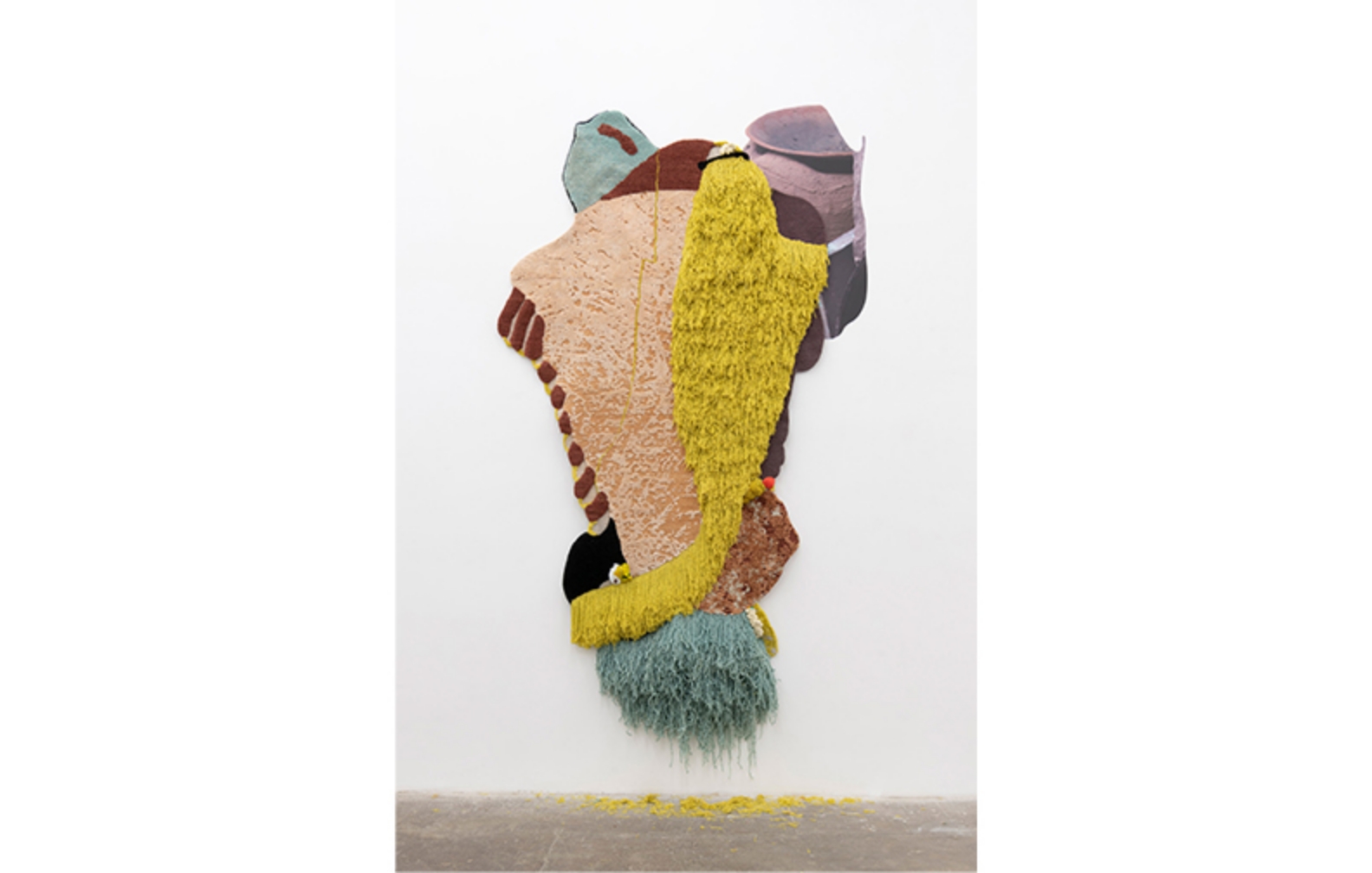 The Weaver
In this piece, the silhouette of a weaver from an Indian village is superimposed with pots used to store and drink water, a hand sewn makeshift blanket called Gundadi, a pile effect using the indent of the weaver's home and cotisso, a net found in Lagos. The yarn is Peruvian, and the final rug tangles together objects distant in tradition & geography.
Hump
In this piece, the central element is the hump of an Indian cow, considered sacred and referred to as Gaumata. It is merged with the aged and consumed walls of an old house in the village, Venetian beads and a hand sewn makeshift blanket called Gundadi. The high pile is sculpted even though its elongation is maintained, to investigate the sculptural aspect of wool and bamboo silk.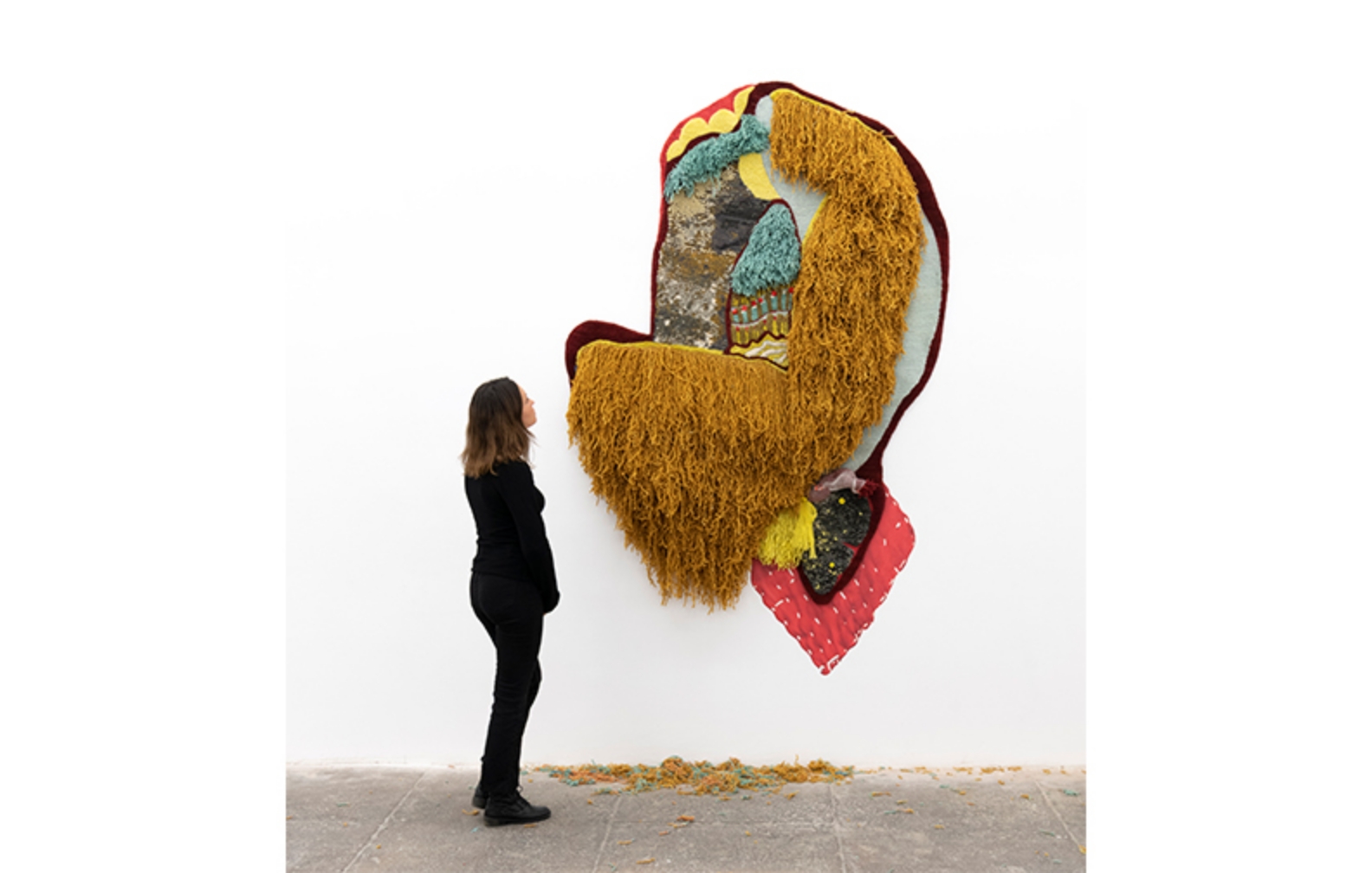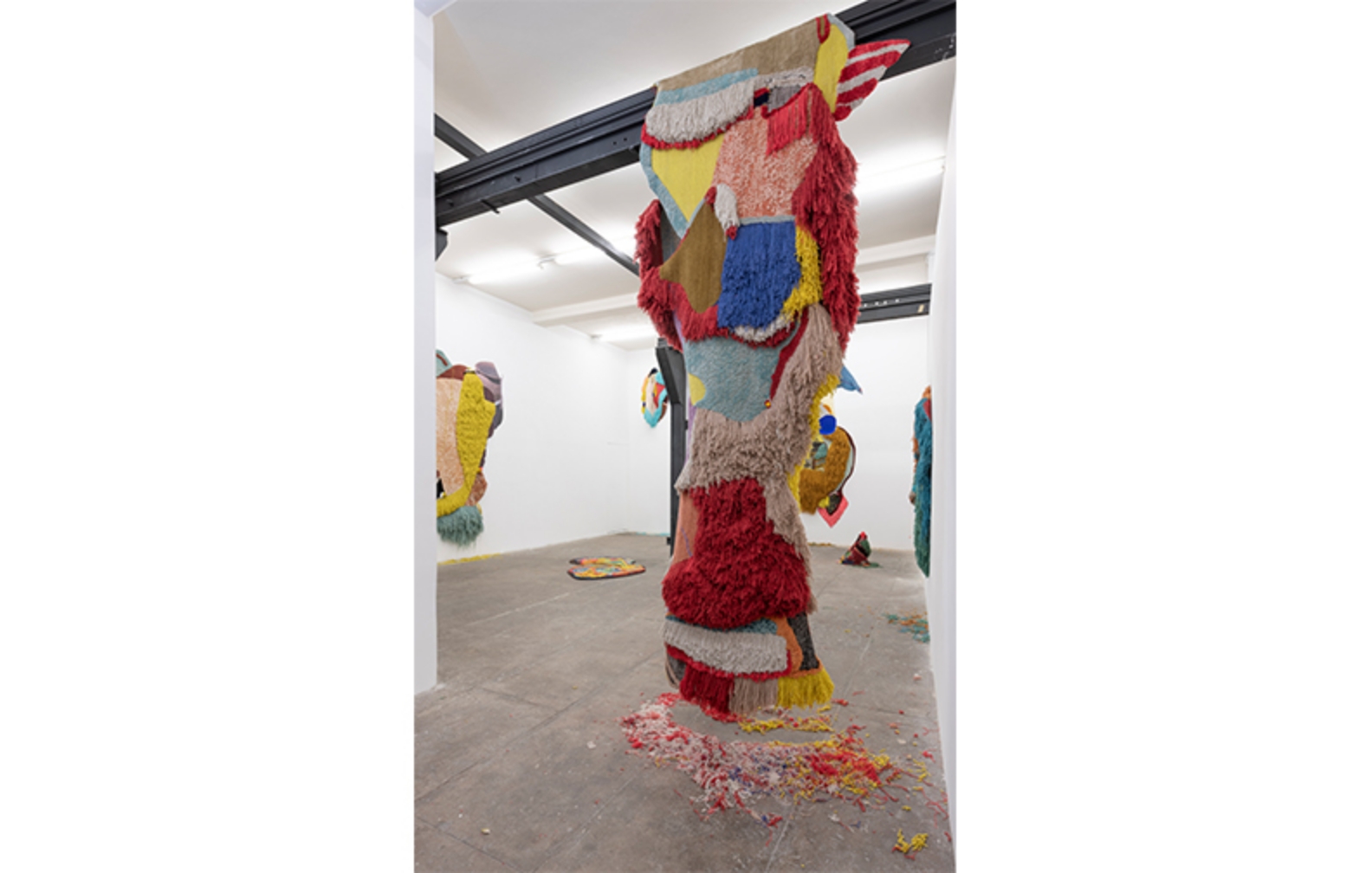 Terra-cotta, Plastic Pots & Chai
In this piece, the interesting anatomies and volumes created by everyday objects installed randomly in the villages' markets is transformed in a string of lines that form an articulated horizontal composition. The intertwinement of the contours convey the idea of a trip, the crossing of different stories becoming a monumental column, preserving the stories it narrates but abandoning its linear timeline.
Flower Market #1
In this piece, the layering of graphic elements is obtained from the images of common objects taken in the villages: plastic, tools, food, and everyday items are retraced by hand in order to relive the experience of discovery and consciousness of the local community, at a later time.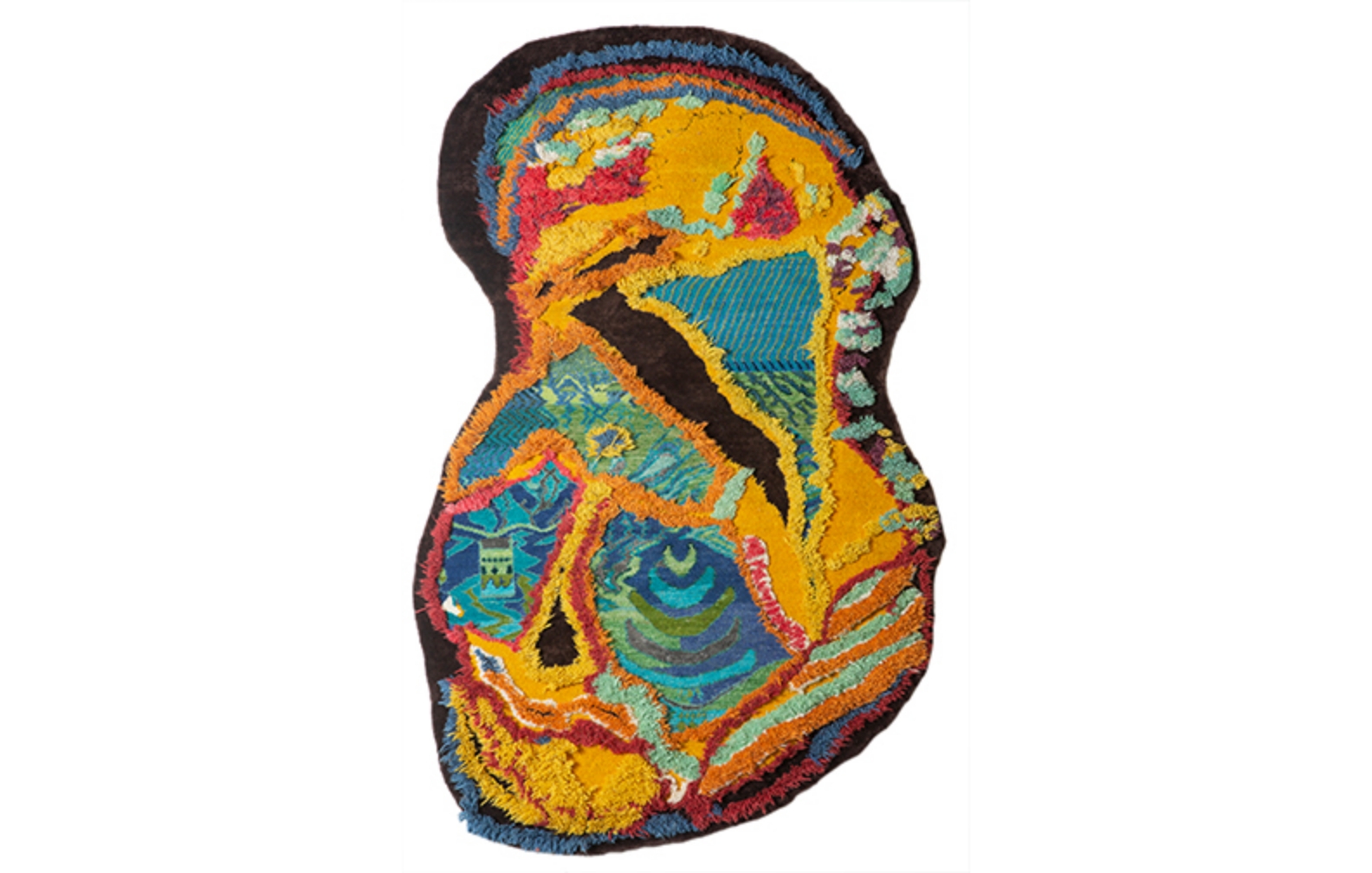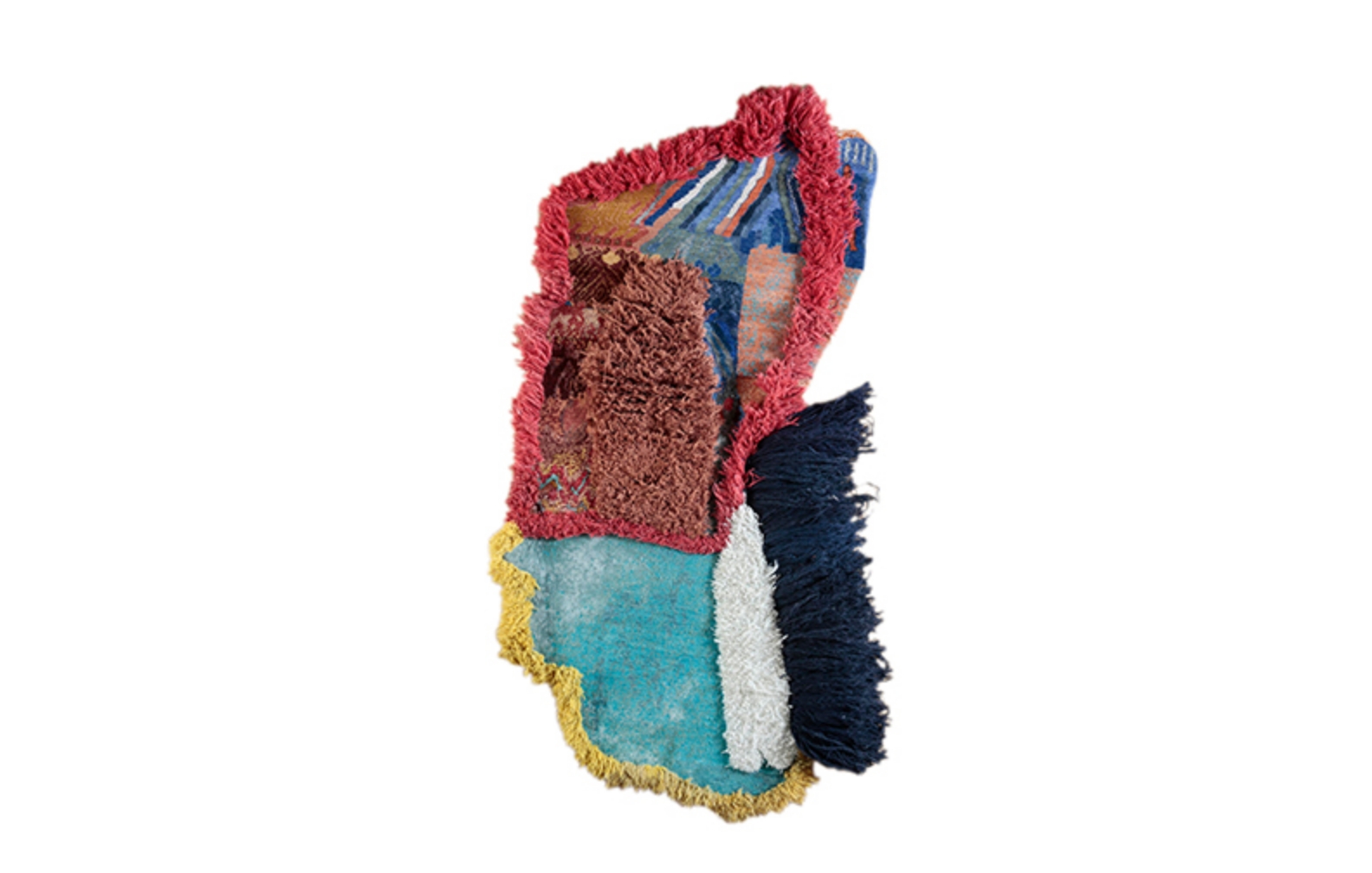 Turps & Walls
In this piece, fragments from a shawl and cart are mixed with one another, along with parts designed by the weaver to create a harmonious composition. A blue old wall, wheat covered patio and a mix of pile lengths and knotting techniques explored the sculptural potential of the rug. It is a design that merges the weaver's world in modern aesthetic.
Bricks & Steps
In this piece, a Palli is drawn and outlined in the red area of the rug whereas the long pile, central to the balance of the tapestry, represents the silhouette of a weaver's sari. These elements were combined with cotisso from Lagos, Murano glass and a mixture of Peruvian wool.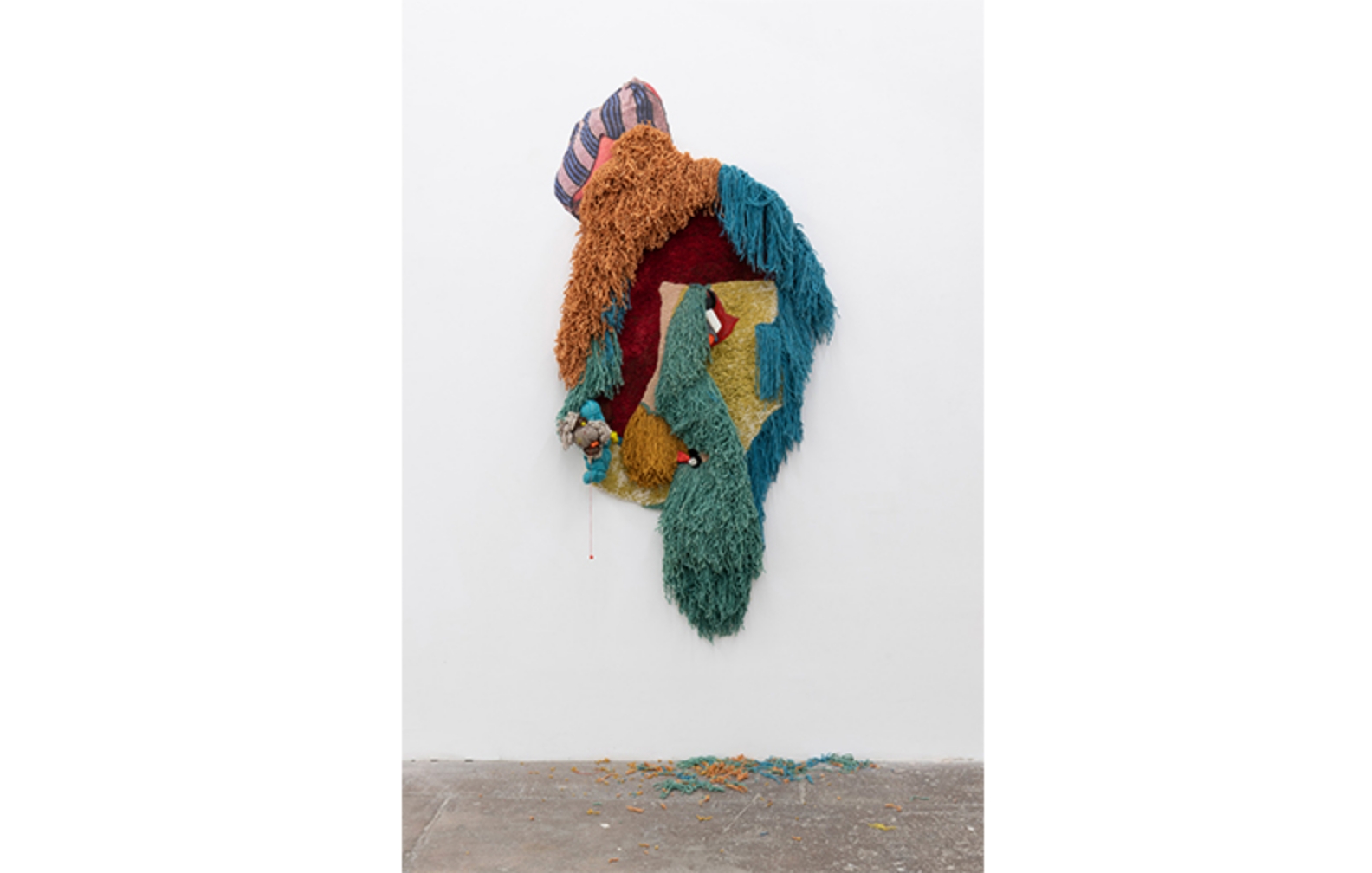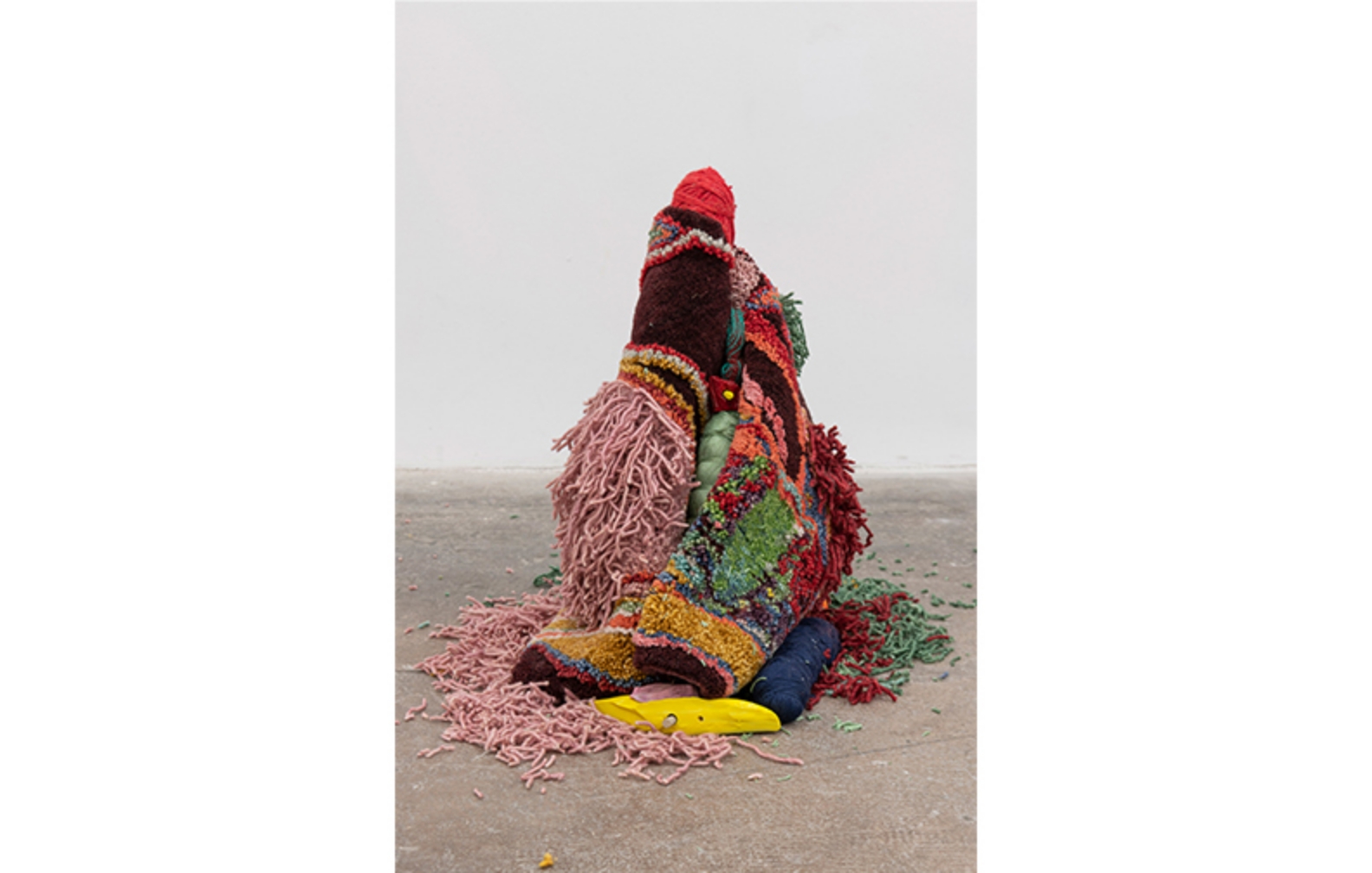 Flower Market #2
In 'Flower Market #2', the inspiration found in the shapes and colours of a flower market in an Indian village was created in a tapestry. Once Vitturi encountered the rug in Italy, he reassembled it to give it sculptural form, adding elements from his hometown Venice, along with Cotisso, raw Murano glass, and yarn from Peru.
Door Mat
'Door Mat' is a tapestry designed on the shape of a door mat found in the house of one of the weavers in the village of Aaspura, Rajasthan. From a simple unnoticed, in fact walked upon doormat in rural India, to a design inspiration of artwork presented in a world class gallery in Italy.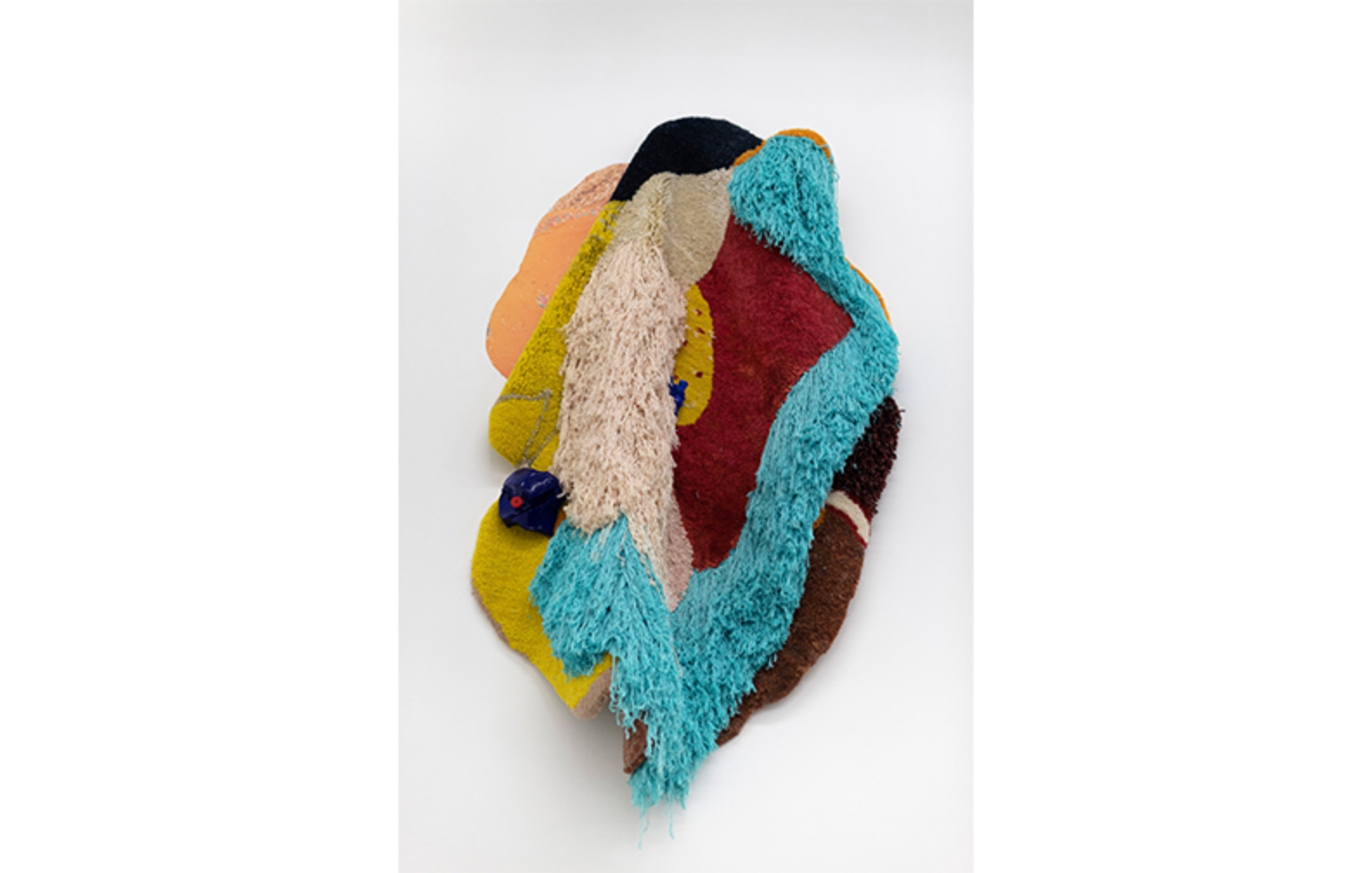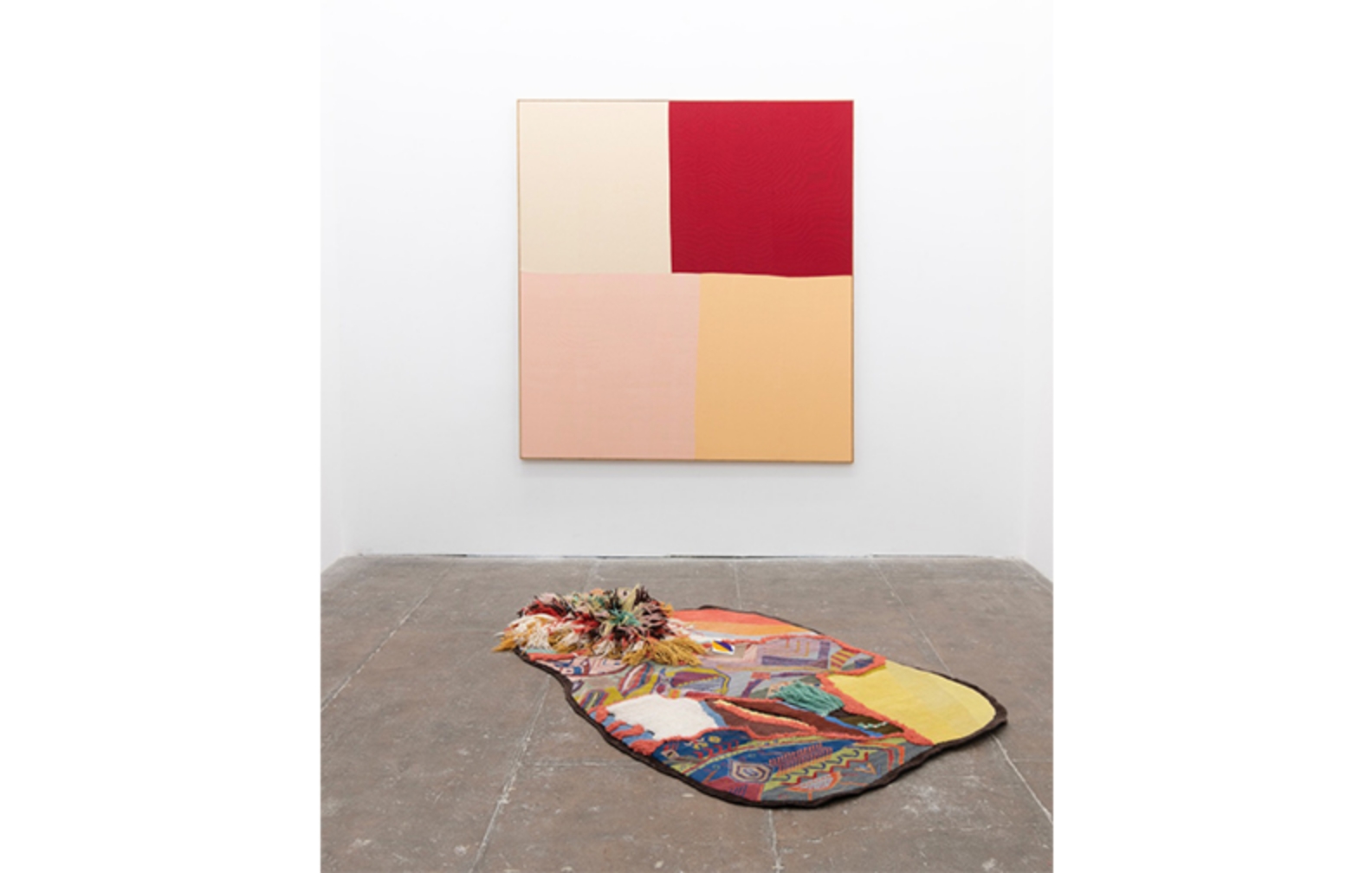 Patio
In 'Patio', a pile of hand sewn makeshift blankets called Gundadi found on a porch of a village home are morphed in abstract coloured layers. This is complemented with the weaver's design and different pile lengths for volume and a metric sight of the yarn's vibrant colours and raw beauty.