10 Timeless Carpets for Modern Apartments
31 August 2022

|

6 Min Read
What makes a timeless apartment rug? While classic designs and colours are key, we list our favourite that makes the cut for contemporary times.
Rugs are the one design element that can make or break a space. The right rug can tie a room together, change the mood of the space and bring in instant luxury. But how to ensure that the rug you pick for your apartment will do all that and more? How do you choose something that will grow with you as you change up furniture, paint, maybe move homes, and most importantly adapt to your evolving tastes? Fear not, we've got you covered.
Fortunately, an apartment rug for keeps has never been about a single pattern or trend. The list curated here covers the gamut of textures, colors, and patterns at different price points and can help guide you through the decision-making process. These carpets are crafted with inspired designs, long-lasting materials, and flawless craftsmanship – all hallmarks of a timeless piece, and one that will fit perfectly within a modern home.
1. Blue and gray rug

Hand knotted in wool and silk, this rug (from the Manchaha collection) is exquisite in its nuanced hues and delicate design
Blue and gray are associated with serenity and a sense of calm; they exert a soothing influence when infused into a space. In interior design, they own a particular property of being either casual or conservative but always balancing. In this Manchaha wool and silk rug, different indigo tints are combined with grey tones and other gentle colored stripes, creating a wonderfully tranquil flooring, ideal for bedrooms or living rooms. Note, that wool and silk rugs need to be vacuumed and professionally cleaned periodically.
2. Geometric rugs

A contemporary rug with a 3D-like design (Jaipur Wunderkammer's London Fog) is guaranteed to please the modernist in you.
The versatility of abstract geometric rugs makes them a perennial favorite for cookie-cutter apartment spaces; they bring their dimensions to the mix. The best way to experience graphic designs is in large formats and that's where the Jaipur Wunderkammer comes in. The oblong shape of the rug and the warm beige tones balance out the angular lines of the room, with the dashes of blue providing a touch of coolness. Inspired by the architecture of the Jantar Mantar sundial, this statement piece adds depth to any room it is placed in.
3. Oval rug

This carpet with overlapping oval shapes (Jaipur Wunderkammer's Tea Tree Rose Rug) serves as the building block for the furniture on and around it.
Graphic shapes coupled with masculine tones and a linear design make for dramatic interiors. Inspired by the architectural heritage of India, this large geometric living room rug goes bold with an intriguing combination of earthy hues and bold stripes, rendered in plush wool with hints of smooth viscose for durability. In this modern living room, the interesting play of forms and patterns of carpet creates unconventional energy in and around, enhanced by the bright indigo sofa, its curvilinear shape complementing that of the rug.
See more of the Jaipur Wunderkammer collection here.
4. Multicoloured rug

Bring cheer to your living spaces with this colorful rug (Manchaha) hand knotted in wool and bamboo silk.
This handmade artisanal rug from the Manchaha collection is woven in the ever-popular indigo base, throwing into relief the varied and colorful motifs. The blue anchors the space while the colored designs bring just the right dose of playfulness and fun to a casual yet eclectic chic living room. Colored rugs are great and can instantly lift a neutral modern living room.
5. Dual-palette rug

Crafted in wool and bamboo silk, this piece (Unstring by Kavi, Blue Lake Ashwood) comes in several sizes and is also customisable.
The dual-toned palette of this luxurious, hand-knotted rug offers a modern aesthetic sure to brighten a contemporary apartment. The design keeps things simple with a striated blue and white pattern that, in addition to defining a space, can cross over decor types, from minimalist to farmhouse, from transitional to contemporary. This carpet has almost 200,000 knots woven by hand in every square meter, a definite heirloom piece to be passed on to the next generation.
6. Abstract rug

A piece from one of the finest handwoven collection (Free verse by Kavi), the Oyster cornflower blue rug perfectly compliments an all-white decor
Plush yarn construction in wool and silk ensures this living room area rug provides oodles of comfort and aesthetic appeal in equal measure. The expanse of a large rug in the living room, accentuated by blue and white lightning streaks that criss-cross all over it, visually stretches the room's dimensions and depth. Introducing just the right amount of restrained color, this rug maintains the pristine ambiance of the space. Such designs also work wonderfully as small modern living room area rugs. Available in many colors and sizes, this design is very adaptable to different types of decor styles.
7. Round handmade rug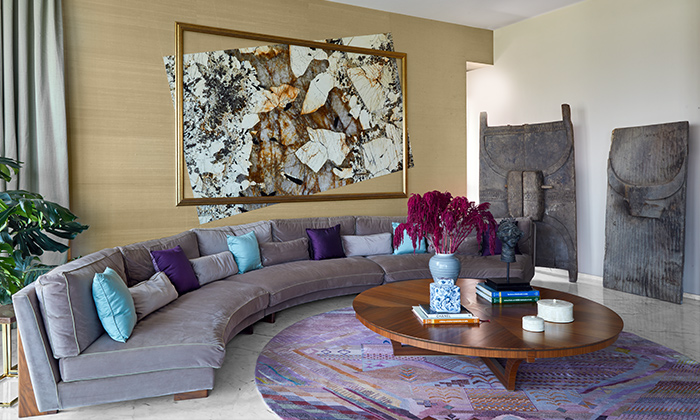 This finely etched rug in wool and bamboo silk (Haathon ki kala - Rose smoke violet), made by weavers' hands, is an ideal small apartment rug for areas that you want to demarcate.
An uncommon color can stand the test of time because of just that – its unique hue. Colour is a great way to experiment in your home; it's known to evoke different moods and can bring life into your space – a quality that doesn't tire. And, a unique shade combined with a not-so-common shape is a double bonus, as evidenced in this living room that sports different shades of lavender against lemon walls, a surprisingly wonderful combination. The finely etched patterns in the round, hand-knotted wool and silk rug are what gives the carpet its name.
8. Artistic pastel area rug

Hand tufted with soft yarns that feel just like wool underfoot, this deeply piled rug spells (Genesis - Fog soft mint) stylish comfort.
Carpets are art. The Genesis rug effortlessly weaves yarns into pastel hues akin to a watercolor painting. The hand-tufted wool construction and thick weave provide deep visual texture sure to make any room feel more welcoming. In this case, it also brings definition to the seating area against a dark floor while
complementing the bright and airy environment.
9. Large antique patterned rug

Here lies a multicolored antique rug (see similar collection here) that transcends eras and decor styles in all its simplicity.
This subdued, multicolored abstract area rug gives the expansive space a cohesive unity; it also wonderfully highlights an adventurous color palette and the old-world aesthetic of the room. The hushed colors and unobtrusive design make it an all-time favorite in a modern apartment space.
10. Bold rug

This hands-on wool area rug (See similar rug here) sports traditional patterns in a modern palette underscoring its timelessness.
Bright colors combined with striking patterns are a mood in itself. Boldly patterned rugs lend themselves beautifully as an instrument to play with scale. The design features oversized motifs, providing the right balance to a large room with high ceilings; it would also serve beautifully as a statement piece in a smaller living room.
The more classic the design and colors, the longer you will stay invested in it. While the rugs featured here are diverse, the commonality lies in their standing surety in contemporary times.
Read more:
How to give your home a timeless look with an antique rug? Find out
Pic Credits
Jaipur rugs / Abil Dase
Related posts