8 Breathtaking Carpet Designs Perfect for Any Home
13 September 2022

|

5 Min Read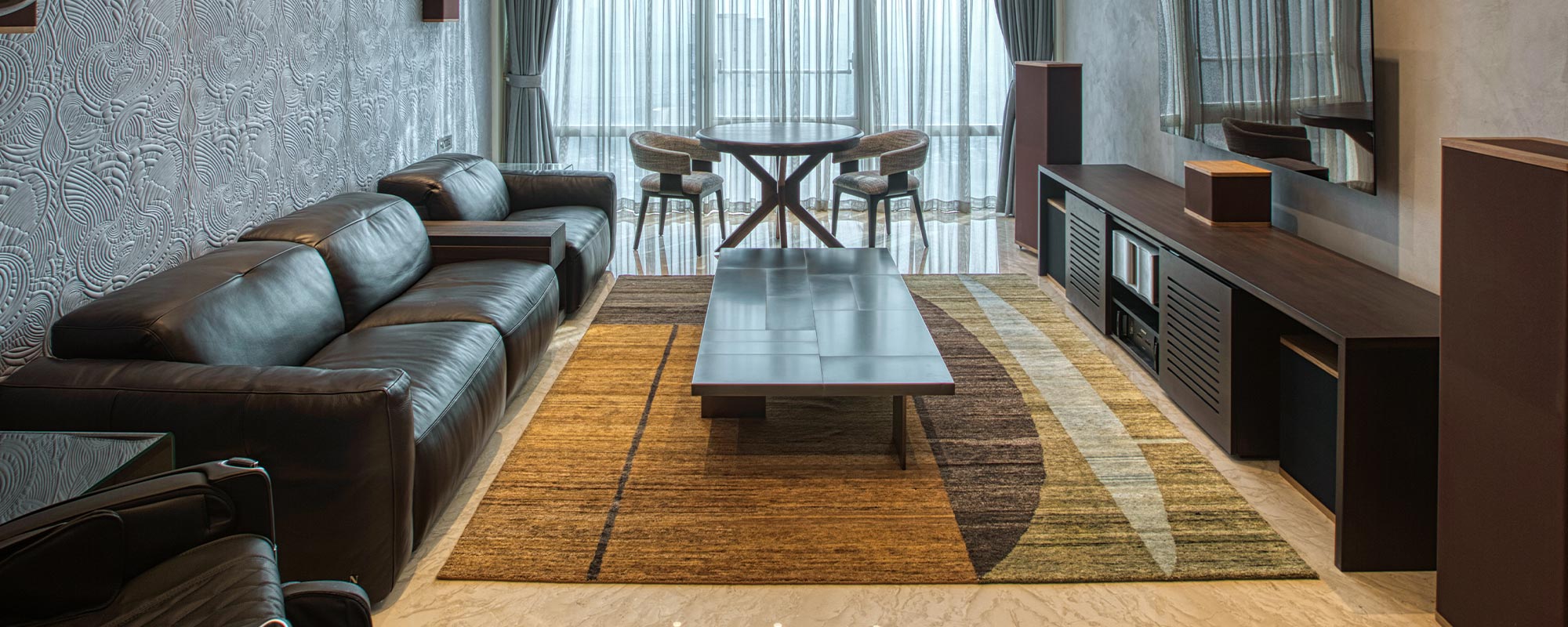 Here are spectacular rug design ideas that will fit your home and budget like a glove.
Rugs and carpets bring in texture, pattern and colours also while infusing a shot of luxury and comfort into the decor. Especially solid, abstract and colourful modern rugs can offer beautiful contrasts or complement the decor to liven up a room. Skilfully made from the finest materials, such as wool, silk and more, this selection of rugs features one-of-a-kind designs.
1. An ode to the pink city of Jaipur, the displayed London Fog Rug from the Jaipur Wunderkammer collection amalgamates eclectic ruby and blue tones. It is inspired by the city's historic art, culture and architecture, especially the royal miniature paintings. Made from 68% wool & 32% viscose, this is a plush rug for the living room or even the bedroom. This handmade rug is tufted by artisans and comes with a 6-month warranty. It is available in a 4 X 8 feet standard size with options for customisation.

A colourful modern rug, this Jaipur Wunderkammer rug injects bejewelled tones into the brown colour palette of this room.
2. Basking in the warmth of neutral hues, the Cloud White Rug from the Abrash collection is one of the best neutral area rugs for the living room. Made from 100% jute, the tactile texture of this rug provides the perfect base to anchor your coffee table or seating arrangement. Great for high traffic areas, with its neutral colour palette, flat weave, and customisable size, it can blend effortlessly with contemporary surroundings. It is not just best paired with bright furnishings, it can also warm up a minimalist colour theme through its earthy tones.

Affordable,sustainable,versatile & durable (Abrash) jute rugs work well in high- traffic areas and are low-maintenance too.
3. Looking for a plush area rug for the living room or bedroom? The hand-loomed Beige Basis features a textural loop and cut ribbed construction. Intricately woven from wool and art silk, the beige palette exudes a casual yet modern vibe and feels great under bare feet. Made from 100% viscose, the rug has a silk-like soft, lustrous finish. It also reflects light and hence can make the interiors seem brighter. The layered beige hues cleverly balance the dark colour palettes and bring lightness, warmth and a sense of luxury to the space. Available as 6'6 X 13'3 ft size rugs, it can be customised too other sizes too.


The Basis has an almost velvety finish, which makes it an ideal canvas to let vibrant hues of the decor shine.
4. Decorating with a grey carpet can add depth, character and high style to any space. The Classic Gray Rug from the Free Verse by Kavi collection merges technology with fine artisanal weaving. Crumbling foil, origami-inspired designs and traced drawings find expression in the patterned carpet, which subtly lends itself to contemporary interiors. The carpet pays homage to abstract artwork with the patterns reminding one of hand-painting and messy pixelation. Made using the fine hand- carded technique (a traditional method of preparing fibres for spinning soft, lofty yarns), this half-wool and half-bamboo silk carpet is hand-knotted and hand-spun. Along with standard sizes, the rug size can also be customised to suit the interiors.

The cool and earthy Free Verse By Kavi rug has an industrial-chic vibe that complements the sleek chairs.
5. Every rug in the timeless Manchaha Collection tells a story and is inspired by elements of Indian culture. Made from recycled yarn from industrial production units, the vibrant and unabashed interplay of patterns and textures in the designs energise the aesthetics. The weavers are provided with 50+ shades of wool and bamboo silk and are given creative freedom in terms of patterns, intricacy, inspiration, and time to completion. As a result, each piece is a unique form of self-expression that embodies an innovative notion of conscious luxury.

The medley of colours from this Manchaha Collection rug gives a quirky twist to this modern living room and brings in edgy patterns that add grace and style.
6. Weaving a dream in pastel colours, the Fog Soft Mint Rug from the Genesis collection is hand-tufted by Indian artisans and made of 45% wool and 55% viscose. It transforms your home into a playful paradise of powder-puff colours that are undeniably irresistible and soothing. The ombre effect of the colours layers the space with a contemporary appeal and adds a subtle sense of style and sophistication. With its versatile abstract patterns, Genesis is available in three sizes: as 4X6 feet, 6x9 feet and 12x15 feet rugs.

Sage green hues of the sofa and the soft-coloured Genesis rug adds freshness to this living room.
7. The Geode carpet harmonises dark copper with moss green with the clever use of abstract patterns. Handmade from 100% wool, the rug features a Tibetan weave design that is crafted in hand-spun wool. The contemporary piece possesses a dense, high- quality weave for luxe softness.

The elegant hues and weave of the mid-century modern rug Geode, creates a layered contrast in this living room.
8. Characterised by bold brushstrokes and eye-catching pastels, the abstract rug design of Genesis provides a sense of movement in an earmarked space. Ashwood and ensign blues serve as a base on which pastel colours and abstract shapes coexist. Made from 46% wool and 54% viscose, the hand-tufted rug adds depth to the decor.

A fluffy rug for the living room, this ashwood ensign blue Genesis rug can enliven the area with its playful abstract pattern.
Each of the above-listed rugs have an exquisite aura. Be it a compact bedroom or a larger-than-life dining space, these alluring, unique carpets design ideas are evergreen and bestselling for a reason. They can not only magically transform your interiors but are a great decor investment that will keep proving their worth over time.
Pic Credits
Jaipur rugs / Abil Dase
Related posts