7 Most Common Carpet Cleaning Mistakes to Avoid
05 July 2021
4 Min Read
By Jaipur Rugs
Your area rug in the living room or the runner rug on the entryway does a lot for you, and the least you can do is to take care of it and clean it in a way that lasts long, and looks and feels as good as new.
Your carpet takes up a considerable amount of space in your home. You have most likely picked it out with a lot of care and attention to detail to add warmth and elegance to your home. And who can deny the joy and comfort of walking barefoot on a velvety, plump, soft carpet or sitting on it with your loved ones while watching TV or playing indoor games? And when it comes to maintaining your carpet, the basic rules apply: if you take care of your carpet, it will take care of you. This means cleaning the carpet not only regularly but also properly. Your area rug in the living room or the runner rug in the entryway does a lot for you, and the least you can do is take care of it and clean it in a way that lasts long, and looks and feels as good as new. You may think that you are applying all the right methods, but the reality may just be far from it. We have listed down the 7 most common mistakes that people make when cleaning a shag rug, handmade rug, solid rug, or pretty much just any kind.
1. Relying solely on DIY cleaning methods
While DIY methods may be great for other household cleaning hacks, when it comes to your carpet, it simply doesn't offer a reliable substitute. The internet doesn't know what conditions your carpet is placed in, how old it is, what kind of wear and tear it has gone through, and much more. When cleaning your area rug at home, we suggest sticking to certified chemicals or simply leaving the job to the experts.
2. Leaving spills untreated for long
If your home is blessed with kids and/or pets, spills are inevitable, but stains don't have to be. Be it liquid or food dropping, don't procrastinate on the cleaning. You can blot a liquid spill immediately with a soft cloth or even a wet wipe to prevent it from seeping into the fibers of the area rug. Food should also be removed right away to avoid it from clumping and lodging in between the soft fibers of your handmade rug. In fact, we suggest inspecting your rug once a week to detect any unnoticed spills or any new stains.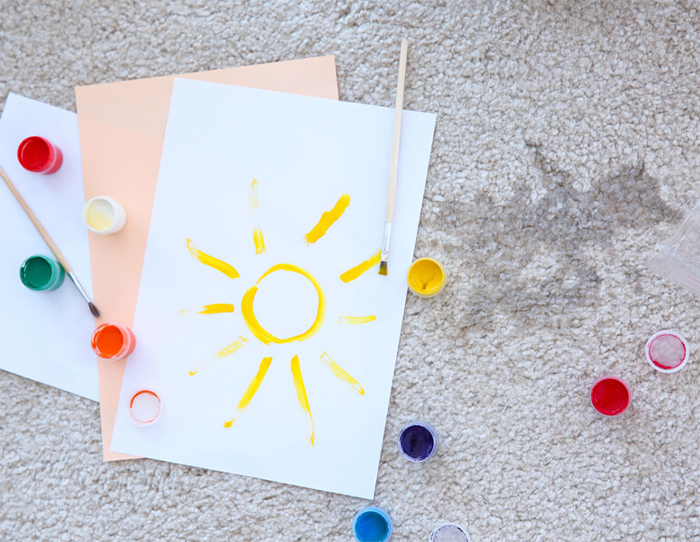 3. Over-wetting the rug
We all know that the easiest, no-brainer, and most available cleaning liquid is water. When used with a good chemical cleaning agent, it can work wonders in removing stains off your runner rug or when cleaning a shag rug. But using too much of it when cleaning your rug can also turn out to be a mistake. We refer to this mistake as over-wetting, which essentially means soaking the carpet way too much while cleaning and/or not drying it adequately later. Using too much water can not only lead to damaging the adhesive that holds the rug but also causes mold to grow and blacken over time. In some cases, using water too generously on your handmade rug can be costly as it spreads the stain outwards, causing a larger patch of discoloration. Use water sparingly and always dry your rug well before you place it back into its space. Putting it out to sunbathe from time to time is also a good idea to treat any remaining moisture.
4. Using carpet deodorizer
When you're looking for a quick fix, spritzing cans of scented spray or using cheap powder deodorizers may look like lucrative options, but they are extremely corrosive. They can cause significant damage to your rug over time. From color fading to even bleaching your favorite handmade rug, the risks are simply too high. Instead, opt for steamers as they are incredibly efficient in taking out stains and odors quickly! You will still need to clean the rug with good soap and water, but this is a much better option than deodorizers.
5. Not seeking the expert help
Experts are called experts for a reason. Their knowledge in their field of work is not something everyone has, and that is exactly why we should trust them with their field of expertise. The same is the case with rug cleaning experts. Your expensive and one-of-a-kind interior design rug or handmade rug is better off at the experts for some much-needed TLC. You can clean your carpet at home, but once in a while, it is a great idea to send it to a professional cleaner. The fibers in the rug tend to have a lot of dust and particles lodged in between which normal vacuums and generic liquids cannot get out.
6. Over-scrubbing
Contrary to what most people think, scrubbing your carpet vigorously or using too much elbow grease is hardly the solution to get the stains out. Doing this will only damage the delicate fibers when cleaning a shag rug or a handmade rug, causing it to fray and look worn out. Instead, blot the liquid stain using a clean cloth.
7. Overcleaning or vacuuming too frequently
This goes out to those who vacuum their rug almost daily- stop! Cleaning the rugs often, using too many chemicals, or vacuuming it regularly will cause the fibers to thin out, their color fade, and the rug fray. And we want none of that happening to our rugs, do we?
When you think about it, cleaning your rug should be a mindless task. But it also requires thought and consideration if you want to maintain your unique interior design rug or that expensive handmade rug. Keep the above things in mind when cleaning your rug, and your rug should have a long, healthy lifespan in your beautiful abode.
Pic Credits
Jaipur rugs / Abil Dase
Related posts