6 Rugs Loved By Celebrities
08 November 2022
5 Min Read
By Haaris Aalamgeer
What's common between Madhuri Dixit, Kangana Ranaut, and Kajal Agarwal? Apart from their movie star celebrity status, it's their impeccable choice in rugs.
If you're revamping your living room or decorating a new home, you may be in the market for a new rug. It's the one design element that can make or break your space. But given the myriad options available, it can be a daunting task to find the rug of your dreams. If you find yourself unable to pin down the right rug, it may be time to seek inspiration elsewhere.

What better place to look for rug inspiration than in a celebrity's home? Take a look at these six Jaipur Rugs chosen by celebrities for their homes.
1. Madhuri Dixit
Legendary Indian actor and iconic star-turned-TV personality, this Bollywood celebrity needs no further introduction. Going by the two Jaipur Rugs the movie star picked, it's safe to say her tastes run from the dramatic to the exuberant, much like her popular films. The multi-colored Geode goes bold with an intriguing combination of dark dramatic colors and a touch of cool blue. It's a statement piece that can give a boost to any space. Its wool construction (6-9mm pile thickness) ensures that this abstract area rug provides comfort and aesthetic appeal in equal measure.


This striking Geode feels like a piece of art on your floor.

Tip: Medium-pile rugs are versatile in both use and style. To make them truly shine, consider layering a mid-pile rug over a larger low-pile rug for extra flair and comfort.
The actress's second pick follows a similar design aesthetic. A round plush rug from the Manchaha collection (similar to this carpet), it features designs in cheerful hues, every shape outlined distinctly for dimensional pop. We see the small round rug serving as a striking accent in a cozy seating area or as a centerpiece in a hallway.
2. Kangana Ranaut
The talented, four times National Award winner is as much known for her acting chops as for her outspokenness. The feisty actress seems to have a penchant for earthy, tradition-inspired, Kilim-style flat woven rugs seeing as she has chosen more than a couple from the Bedouin range of rugs. Woven from natural fibers, such as hemp and jute, these rugs with their earthy colors and variations of traditional geometric motifs are a surprisingly versatile decorative element. They fit in well with almost all interior themes – from pared-back, minimalist interiors, to modern/contemporary settings.

This beautiful flat weave rug can bring vibrancy and functionality to any space.

Contour, a more neutral-hued rug, has also found favor with the actress. It's a hand-tufted, deep-piled rug in a grey-and-white palette that features a classic Moroccan pattern. The muted colors and white arabesque design can provide a nice backdrop for more dramatic room decorations. Woven in wool and viscose, it's a lovely example of traditional designs in modern colors and materials.
3. Kajal Aggarwal
This fetching rug from the poetically named Project Error by Kavi collection gets the seal of approval from the popular South Indian film industry movie star. The enchanting piece is a perfect example of an edgy, contemporary rug – it utilizes lines, colors, and shapes like abstract expressionist art resulting in a carpet that is a unique piece of art. The beauty of the rug lies in the fact that there are no specific patterns to it, allowing one to interpret it in a variety of ways. The colors have gradually melded to create a unique design; it's a terrific way to add individuality with a touch of sophistication to any space.

This series, woven in bamboo silk and wool comes in a variety of colors. Check them out here.

4. Athiya Shetty
The lissome Athiya Shetty, daughter of veteran actor Suniel Shetty, is busy making a mark in Bollywood despite being just a handful of films old. The Mubarakan star is a fan of Zuri; a 3D-pattern rug that resembles ice chiseled in geometric relief. The graphic motifs are rendered in tonal shades of ice blue-grey, with the edges of each shape deeply etched for added pop giving it depth. The rug provides dramatic decorative impact while the subtle shade ensures it remains easy on the eye.

Tip: Use to ground a seating arrangement against a dark floor or display it in all its glory as a standalone placement.

Zuri, hand knotted in 100% wool can adapt to most decor styles and nearly any room setting.

5. Punit Malhotra
The well-known Bollywood director's preference runs to neutral-minimalism. His rug of choice is Aqua; a low-key flat-woven piece featuring thick stripes in grey and beige. The design is a classic one and the colors are muted, making it perfect for Scandinavian and minimalist decor themes. The area rug is fabricated in 100% wool for longevity and comfort. If you are looking for a rug with a contemporary, yet neutral design, Aqua is a solid pick on looks alone.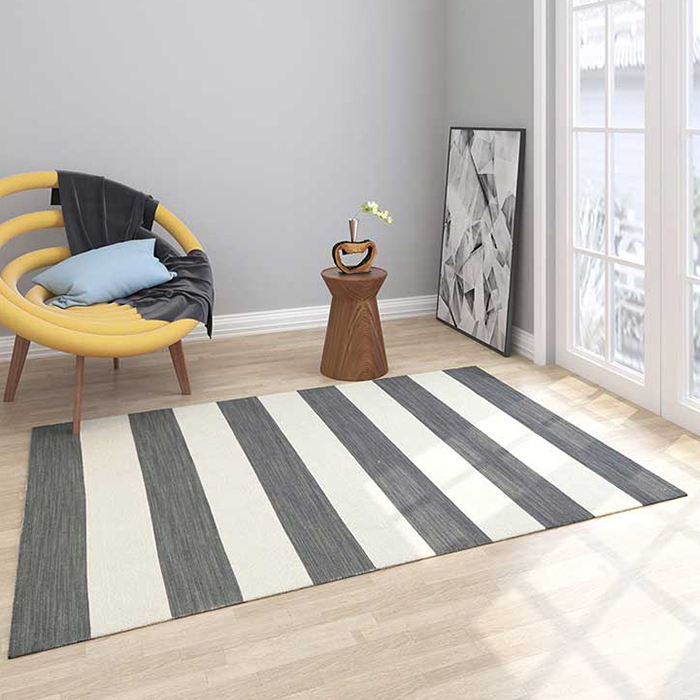 This popular and versatile rug design comes in a wide variety of colors and sizes.

Tip: Flat weave rugs perform best when paired with a rug pad underneath to avoid sliding around.
The second piece the director chose for his home, named Basis, complements the first with its masculine, neutral shade. The handloom, low-pile rug in wool and viscose keeps things sleek and streamlined with a striated grey texture.

6. Nupur Sanon
The aspiring actress-singer, and sister of Kriti Sanon, picked up the brightly patterned rug called Transcend; the rug's a mix of bohemian and vintage while still giving out a very on-trend vibe. The graphic checkered rug, depending on how you style it, can add a modern, trendy effect or a retro-classic look. Either way, the bold repetitive design makes quite the statement and brings a nice dose of geometric pattern to your space. It's a classic design with contemporary colors that will continue to be stylish for years to come – one that we can totally get on board with.

Use this wool hand-tufted rug to bring warmth and color to any space.

Pic Credits
Jaipur rugs / Abil Dase
Related posts