You are on our Italy website. Please select your region to see content specific for your location.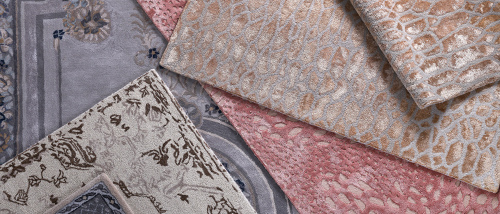 hand tufted rugs
A home is a place for refuge, a space where you can leave the sights, sounds, and stresses of the world at the door. To achieve this feeling of comfort and tranquility, you must design a home that maximizes both space and atmosphere. And what's a better pick for the same than handtufted rugs? Handtufted wool rugs under this versatile category of rugs can serve many purposes in your home – tufted carpets can be purely decorative, or there are many reasons why a functional carpet can benefit you every day. Browse our collection available in many styles & colors - from traditional red carpets to modern blue rugs.
Read More
How Hand tufted Rugs can emphasize your Home Decor?
The hand-tufted rug is a time-honored approach to give your interior design a classic look and feel. The exceptional artistry used to create these custom rugs results in one-of-a-kind designs that add personality to your home. Hand-tufted wool carpets and rugs are the best options for any area in the house because they provide an unrivaled balance of elegance, beauty, and comfort.
How to Choose the Right Hand Tufted Rugs for your home?
It's crucial to consider the shape of your area when selecting a hand-tufted rug for your house. While larger, round rugs are ideal for living rooms and larger bedrooms, oval or rectangular rugs work excellent in corridors and other tiny places.
The rug's size is another thing to think about. You may select a hand-tufted rug that exactly fits your area because they are available in a range of sizes. Consider an oval rug if you're looking for a floor covering big enough to cover an entire room. Consider a smaller rug, such as a 5-by-7 or 6-by-9, for a more understated appearance.
Your major priority should be the appearance of the room when selecting the ideal color for your hand-tufted wool rug or carpet. Think about the rug's design and the room's color scheme. Choose a stronger hue like red or yellow for a modern environment.
The design and pattern you want to utilize should be the second factor to consider when choosing a hand tufted rug. A traditional, hand-tufted wool rug is a good choice if you're searching for something a little more conventional.
It's crucial to take the room into consideration when selecting a hand-tufted rug for your home. Rug types should be considered for various spaces, including the living room, bedroom, kitchen, and bathroom.

FAQ's
What does hand-tufted mean in a rug?
Wool yarn is pushed through the backing of carpet to form elaborate patterns in hand-tufted rugs, a particular style of carpeting. Since ancient times, this technique has been utilized to make tribal rugs, boho rugs, oval rugs, and unique motifs. Wool rugs that have been hand-tufted are the ideal method to give any house a distinctive and opulent touch.
How do you maintain a tufted carpet?
Regular vacuuming is necessary to keep the carpet tidy. Avoid direct sunlight, which might fade your tufted carpet, and lay it flat in a dry area when drying it. The easiest approach to maintain the appearance of hand-tufted wool carpets is to place an area rug pad underneath. This helps keep the rug's pile clean and stops the fibers from matting down.
Can you wash a hand-tufted rug?
The composition of a hand-tufted wool rug is the most important consideration when determining whether it can be washed or not. Most classic hand-tufted carpets are more fragile and unsuitable for machine washing because they are made entirely of wool. Some hand-tufted wool rugs, on the other hand, are made from a combination of wool and synthetic materials, making them slightly more robust and more suited for washing in a washer.
How can you tell if a rug is hand-tufted?
First, a rug's tufts are the easiest method to determine whether it was hand-tufted. Tufts are little yarn loops that are threaded through the rug's backing. Next, examine the rug's edge for evidence of hand-tufting. Look for a nice, even edge on the rug because hand-tufted carpets typically look more polished than machine-made rugs. Finally, take a look at the rug's backing. While machine-produced carpets have a plastic or synthetic backing, hand-tufted rugs have a backing made of canvas or another material.
Why are hand-tufted rugs so expensive?
Why, then, are hand-tufted rugs so pricey? The level of expertise, craftsmanship, and premium materials utilized in their products are the key to the solution. You may be confident that the hand-tufted rug you select from Jaipur Rugs will be a pricey, fashionable, and durable work of art.
POPULAR CATEGORIES
| rugs | kilims | area rugs | customized rugs | prayer rugs | outdoor rug | rug store | jute rugs | runner rugs | hand loom | blue carpet | green carpet | living room rugs | shag rugs | wool rugs | modern rugs | bedroom carpet | round rugs | stair carpets | flower carpets | grey carpets | oriental rugs | pink carpets | geometric rugs | rugs for sale | abstract rugs | square carpets | office rugs |
Read More