You are on our France website. Please select your region to see content specific for your location.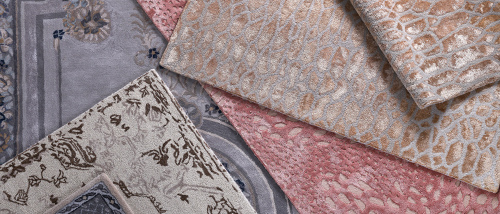 hand tufted rugs
With the help of our hand-tufted rugs, you can give your living spaces a mix of global flair. The best part about the tufted rug is that a lot of craftsmanship goes into making it and that it can be customized to suit any room's decor. These magnificent, handcrafted tufted area rugs can last for many years, especially if properly cared for. These carpets are constructed from natural jute, hemp, cotton, rayon, wool, and viscose and come in various eye-catching hues ranging from solids to multicolor rugs.
Jaipur Rugs France is a company known for producing high-quality hand tufted rugs. The company's skilled craftsmen use traditional hand tufting techniques passed down through generations to create intricate designs and patterns. The process begins with the selection of the highest quality raw materials, which can be dyed in a wide variety of colors to create a palette that is both rich and vibrant. Then, with the help of a tufting gun and many years of experience, craftsmen carefully push the yarn through a stretched piece of fabric, creating the pile of the rug. This technique allows the maker to achieve a wide range of textures and thicknesses, resulting in a finished product that is not only beautiful but also durable when pertaining to structural integrity. With a rug from Jaipur Rugs France, you can be sure that you are getting a one-of-a-kind piece that has been crafted with care by some of the most talented artisans in the industry.
Tufted rugs - Bring Intricacy to Your Home with tufted Rugs
A hand tufted rug from Jaipur Rugs France can bring exuberant intricacy to your home. Tufted carpet is a type of rug that is created by threading yarn through a stretched piece of fabric, with what is called a "tufting gun" that develops the pile of the rug. The tufting gun is operated by hand, allowing the maker to create intricate designs and patterns with a high degree of precision and control. As a result of this skillful craftsmanship, a tufted rug can bring a great deal of intricacy and personality to a room, and can be a great way to add comfort, warmth, fashionability and detail to any home interior.
Unfold an exhaustive range of hand tufted carpets online at Jaipur Rugs
Benefits of tufted rugs
When it comes to browsing and perusing through the many rug offerings around the world, Jaipur Rugs France is your go-to store for finding an exhaustive list of carpets that fit your many objections. From jute rugs to custom tufted rugs and everything in between, the Jaipur Rugs France store is guaranteed to carry a diverse selection of tufted rugs to choose from. You can start your search by filtering in accordance to your material, design, color, and sizing needs so that you can find your next piece of intricate carpet.
How to choose the right tufted rugs for your home?
By Material
If you are shopping for a tufted rug by material, it is helpful to know that Jaipur Rugs France carries tufted rugs made from wool, bamboo silk, viscose, polyester, and many other offerings.
By Design
Choosing a rug based on design can be incredibly difficult, but it is important to trust your intuition when it comes to selecting a tufted rug from standard design principles. At Jaipur Rugs France, you will be able to filter your design needs further by selecting specific artisans, patterns, styles, and much more.
By Colours
The yarns used during the hand tufting process can be dyed a variety of colors, allowing for many different designs and patterns to be created. For example, buyers have the opportunity to buy green carpet or other custom rugs with multiple colors for their home.
By Size
For those that do not plan on buying small rugs and are shopping for a larger rug to take up more space, it is important to note that the size of your rug should lay between 18-24" from each side of your walls. This will ensure that the rug is properly sized and does not look out of place in your home. We carry sizes as small as 60x90cm all the way up to 300x420cm and everything in between.
Why choose Jaipur Rugs to buy tufted rugs?
Jaipur Rugs is a reputable brand known for producing high-quality, hand-tufted rugs that are crafted by skilled artisans using traditional techniques. By visiting Jaipur Rugs online, you will have access to a wide variety of unique designs and patterns that are not available elsewhere. Buying from Jaipur Rugs France guarantees you a one-of-a-kind piece that has been made using the highest quality materials and will last for many years to come.
FAQ's
What is a tufted rug?
A tufted rug is a special piece of carpet that is made by using a tufting gun to thread pieces of yarn through elongated strands of fabric. By doing so, craftsmen at Jaipur Rugs can get incredibly precise and creative when it comes to designing new concepts.
How long does a tufted rug last?
In general, a tufted rug can last up to 10 years. However, you must ensure that you regularly service the rug on a weekly or monthly basis to ensure its cleanliness and protect its durability over time.
Can you wash a tufted carpet?
Pertaining to whether or not you can wash tufted rugs, it is advised to not wash these carpets in your machine. Instead, it is recommended that you contact a local rug cleaning service to come to your home annually and service the rug. This will ensure that it receives professional quality care and ensure that the pile isn't damaged when washed.
How much do custom tufted rugs cost?
When sorting your search on the Jaipur Rugs France website, you will find that we offer tufted rugs for as little as €60 and as much as €20,250.
POPULAR CATEGORIES
| rugs | kilims | france rugs | area rugs | customized rugs | prayer rugs | outdoor rug | jute rugs | runner rugs | hand loom | green carpets | living room rugs | shags rugs | wool rugs | blue carpet | oriental rugs | pink carpets | round rugs | bedroom rugs | animal print rugs | flower carpets | modern rugs | stair carpets | grey carpets | geometric rugs | rugs for sale | abstract rugs | traditional rugs | office rugs |
Read More