You are on our Middle East website. Please select your region to see content specific for your location.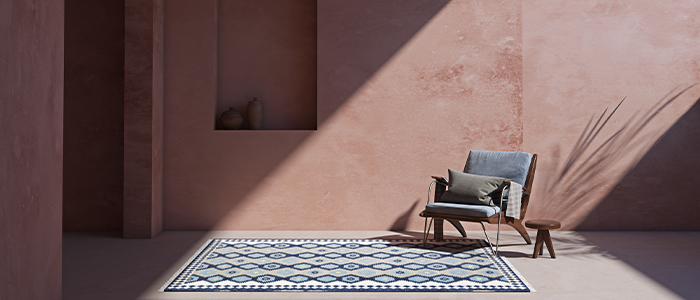 flatweave rugs
In essence, a flatweave is a thick cloth. They are mobile, durable and cost-friendly with a large range of weaving patterns, designs and colors. Extremely versatile, it can be used both indoor and outdoor and is even an easy travel partner.
Buy Flatweave Rugs Online
A woven rug is nothing short of a fool-proof way of injecting your home with character, volume and colour. From eccentric designs to eye-catching colors, flatweave rugs come in a whole roster of varieties to choose from. Flatweave rugs are durable and hence, great for high-traffic areas. If you have a house with toddlers and pets, a cotton or wool dhurrie rugs will provide underfoot comfort and protect the floor while keeping wear and tear away. It is a great choice for a bachelor pad, pet owners' house, and families. Cotton dhurrie rugs are visually pleasing and can be laid down anywhere to create a comfy hangout spot on the floor with some cushions laid out. Infuse your room with some tang of colour with dhurrie rugs made from wool, jute, cotton, etc. at Jaipur Rugs. We have a wide collection of flatweave rugs in a plethora of materials, patterns, and designs that can fit into any space. At our online store, you can find a high quality flat woven rug online to add charm to any and every space, irrespective of its personality.
Why Choose Dhurrie Rugs for Your Home?
Dhurrie rugs fall at the fine intersection between elaborate and laid-back, adding a bit of both for just the right vibe for any space. Be it the living space, the bedroom, or even the patio, a fun wool dhurrie rug can make the world of a difference! Jaipur Rugs has all that and much more with options that will leave you spoilt for choice! You can choose flatweave rugs not only for your home but also for more formal settings. If you're having difficulty picking just one, why not add a few to the cart and layer them as per their texture and patterns? Dhurrie rugs can also be easily transformed into custom rugs to suit the size, shape, material you are looking for. Contemporary decor trends are, after all, all about personalization.
Why Pick Flatweave Rugs and Dhurrie Rugs Online?
Everyone loves an antique, elaborately designed rug to be the showpiece of any space. However, if you're not ready for the investment yet, flatweave rugs are a great way to gradually make your way there. But if you're still deliberating on the decision, here are a few reasons why you should go ahead and buy a flat woven rug online at Jaipur Rugs:
Dhurrie rugs are versatile and feel right at home in any space. This also goes on to say that they are great transitional pieces to change the mood of a house as per seasonal change, occasions, or when you're hosting guests at the house.

A designer rug or a traditional rug takes up a lot of space and often serves as the show stopping decor element. While that works great for some spaces, flatweave rugs in fun colours, exciting designs, fringes or tassels are for those which have a more chilled-out vibe

When looking for dhurrie rugs online, you can pick one made with cotton so that it can transcend seasons and endure change of weather. Since they're easy to layer, you can always add a woolen one for extra warmth if need be.
Why Pick Jaipur Rugs to buy Flatweave and Dhurrie Rugs
At Jaipur Rugs UAE, we believe in the aesthetic heft of a rug. But we also know that sometimes, people need something more heavy duty to provide warmth and comfort minus the effort of their maintenance. You can find solid color area rugs on discount at Jaipur Rugs and outfit every room with the swipe of a finger when buying dhurrie rugs online with us. Scrap the extra effort of bringing it home for we offer fast delivery and secure payment options.
| Rugs | Price |
| --- | --- |
| pdjt-318 blue flat weaves Rugs | AED 1,570 |
| adwl-78 multi flat weaves Rugs | AED 1,750 |
| sdwl-342 blue flat weaves Rugs | AED 3,490 |
| gi-07 pink and purple flat weaves Rugs | AED 1,750 |
| adwv-04 grey and black flat weaves Rugs | AED 1,750 |
| dr-105 blue flat weaves Rugs | AED 1,660 |
| dw-112 red and orange flat weaves Rugs | AED 2,180 |
| px-2108 flat weaves Rugs | AED 1,750 |
| dr-125 blue flat weaves Rugs | AED 1,660 |
| dw-222 flat weaves Rugs | AED 1,280 |
Read More