You are on our Middle East website. Please select your region to see content specific for your location.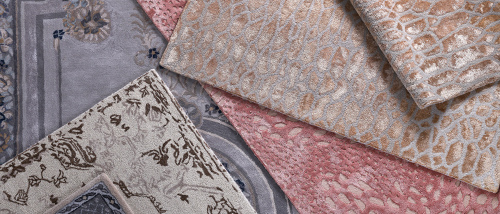 hand tufted rugs
These cost effective rugs last for 5-7 years. They are the alternative to hand-knotted rugs, and their quality and price depends on the fiber used. Tufted rugs have a nearly unlimited variety of patterns, colors and textures.
Read More
Buy Hand Tufted Wool Rugs Online at Jaipur Rugs
There is often confusion about what hand tufted rugs actually are and how they are different from hand knotted rugs. Hand tufted area rugs are partially made by hand and partially using a mechanised tool. They are comparatively more affordable as they take lesser time to weave than a hand knotted rug. This technique of weaving rugs uses wool that is punched by the artisan into a canvas stretched out on a frame using a tool. Indian hand tufted rugs at Jaipur Rugs UAE combine the best of traditional craftsmanship and the gift of modern tools to create stunning rugs that are one-of-a-kind.
A Spectrum of Variations in Hand Tufted Area Rugs to Choose from At Jaipur Rugs
Looking for a rug for your dining space? Or do you want one for laying it under the ottoman in the living area? Does your room lack a focal point? No matter what your need or purpose, the right hand tufted area rugs can solve the problem. The variety in hand tufted rugs at Jaipur Rugs will leave you fumbling for choice. When shopping online for hand tufted rugs at Jaipur Rugs, you can choose from our many filters to narrow down your options. For example, if you want a modern rug for your modern house, an antique overdyed rug for your office space, or a solid rug to bind the decor of your store together, you will find an answer here.
Why Choose Jaipur Rugs to Buy Hand Tufted Rugs
Not only do we bring you some of the best prices of hand tufted rugs online but also facilities like customising a rug, consulting a rug expert online to get advice, paying though easy payment options, free and fast delivery, etc. However, the most treasured service we provide is that of a life-long relationship between you and the artisans.
Read More