You are on our France website. Please select your region to see content specific for your location.
Before Weaving
One hand-crafted rug passes through 180 hands from start to finish, and it's a testament to craftsmanship in itself. Each one of those 90 people possess unique and irreplaceable skill, as it takes years to harness.

To join all these hands together requires a decentralized model, reaching out step by step to each specialist to create quality that is unmatched. This is made possible only through building bridges of compassion, empathy and love.
Sourcing of raw material
The essence of handcrafting is truly captured when its raw material is also handcrafted art.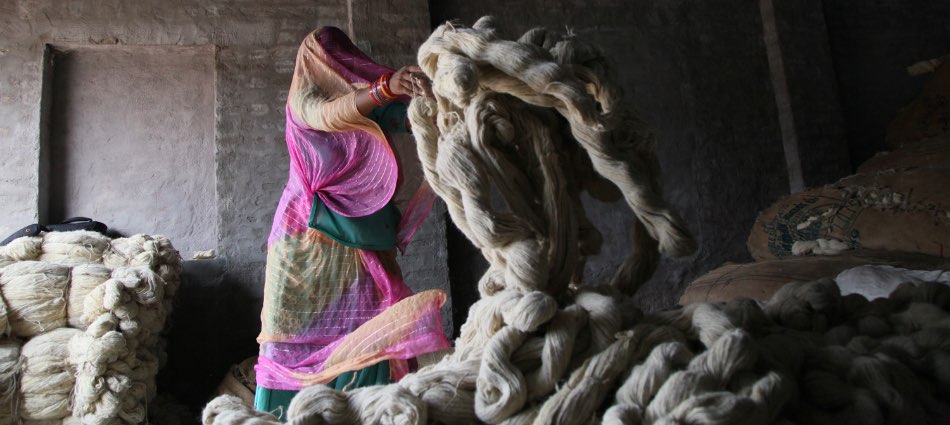 Wool
Chokla Wool, the best Indian wool for rugs is purchased at a biannual auction in Bikaner, due to the seasonal shearing of sheep in the spring and in the fall. It comes mixed in texture and qualities that are segregated by hand, as the traditional expertise of the local folk is irreplaceable.
Merino Wool
It is imported from New Zealand and is used in the finest 14/14 quality carpets as well as in creating blends of wool.
The finest wool is imported from 18 different countries to make blends of yarn that merge lustre, durability, fleecy texture, all into one.
Silk
Silk of the choicest quality is imported from China and sourced from traders within India.
Carding & Spinning
The handpicked wool, once sorted, segregated and washed, finds itself in the hands of one of India's rarest artists, the Katwari (spinner).
She sifts through the wool, layering the strands together, a process called carding. Placing a dollop of wool on a bristled pad, she brushes it with another, removing clumped dirt, knots and giving the wool uniformity, gently caressing it to evolve into yarn.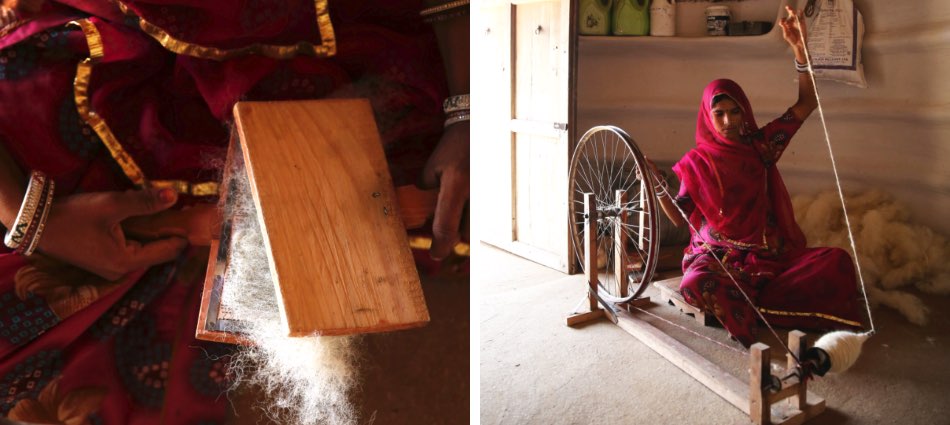 In the wake of that tedious task, she channels centuries of Indian heritage through her hands, spinning the yarn on a charka (spinning wheel), with a meditative flow that brought back Indian independence, and is a permanent symbol to the nation's values. The intertwined fibers of wool have a wave-like pattern of thick and thin, but sticks together to make the most durable form of yarn with the most remarkable texture, somewhere a metaphoric representation to Indian history. Over 3,000 of these unique artisans have found their home with us.
Dyeing
Rug dyeing is a traditional art that allows artisans to create decorative effects. Yarn is first segregated before the dyeing process. Lighter wool for lighter coloured dyes and darker wool for the darker dyes and texture by the feel. The texture is also important because it can determine the overall quality of the yarn. Blends of different wool help moderate how bristly or soft it turns out.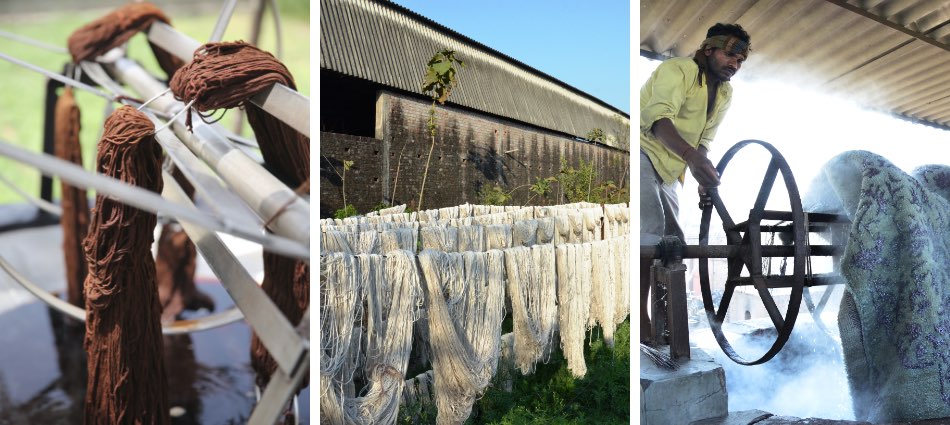 Our raw colours are sourced from Colourtex and Hunstman, which we then make our own recipes of colour from, giving us a range of more than 3000 colours, and the ability to customise then too. They are eco-friendly and are GOTS (Global Organic Textile Standard) certified dyes, the colours do not bleed or damage the yarn, resulting in a more durable rug.
Artisans wound the yarn on a wheel-like frame, and it is then dipped and kept into boiling hot vats of dye to embed its intended colour. The yarn is then hung to dry in the sun, and stored until use. Each batch of yarn has inherent colour variations, which brings character to the rug, along with wool ageing and raw material preparation. Rugs with this effect easily observed are known as Abrash or Antique.
Weaving
A range of weaving techniques are used to create different types of rugs, and the technique can determine the quality, design, price and even their durability.
Read More