You are on our United Kingdom website. Please select your region to see content specific for your location.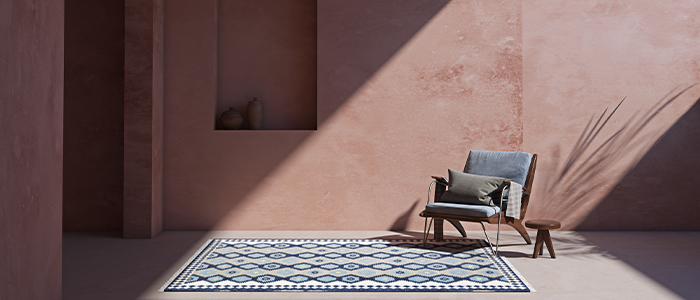 Flat Weave Rugs
Flat weave rugs are mobile, durable and cost-friendly with a large range of weaving patterns, designs and colors. Extremely versatile, flat weave rugs can be used both indoor and outdoor and is even an easy travel partner.
Flat Weave Rugs - Experience No Wear and Tear with Flat Weave Rugs
Flat weave rugs are not woven knot after knot like hand-knotted rugs, instead they are made without a pile height using warp and weft of the loom to be woven into a single piece. Flat weave rugs are also popularly known as Dhurrie rugs in India and kilim rugs in Persia. Flat weave carpets are not very thick or plush. Flat weave rugs are generally very durable and therefore can be easily placed in high traffic areas and even placing heavy furniture does not crush them as they do not have any pile height. Flat weave rugs are generally lightweight so there is no problem when it comes to storage of these rugs. You can easily roll flat weave rugs and store in an apt place. If you have small kids or pets at home and you are afraid that they might spoil the rug, then you can certainly go for flat weave carpets. They are usually not very heavy on the pocket. Further, flat weave rugs do not need much effort to be cleaned or maintained. If your home consists of parquet flooring then you can easily place flat weave rugs and it can gel with the interiors. Moreover, you will have no problem if you wish to relocate flat weave carpets as it is portable and can go well with different room settings. Flat weave rugs can incorporate various designs and patterns in different color palettes. You can think of blue rugs or grey rugs or can even try layering if you wish to add more texture to your room. The raw material used is generally wool, cotton, hemp or jute for the flat weave rugs. If you plan to lay cotton flat weave carpets below, you can add wool flat weave rugs on top of it for a smoother walking experience. In summers, flat weave rugs are a great option as they do not trap much heat and are easy on the feet and make the space breathable.
Flat Weave Rugs Collection - Explore a Huge Variety of Flat Weave Rugs Online at Jaipur Rugs UK
At Jaipur Rugs UK, we take pride in bringing new life and design to the most simple inventions. The humble flat weave rugs gets a makeover as we take this primitive design and turn it into something fit for a futuristic setting. From traditional rugs designs in rich and warm hues, to modern rugs minimal patterns for a 21st century home, our range of collections of flat weave rugs are absolutely to die for. With designs to appeal to the pickiest of decorators, and those to confuse the most easy-going designers, our range of flat weave carpets is designed to impress. At Jaipur Rugs UK, you would not have a difficult time choosing flat weave rugs as they are easily available online in a wide variety of patterns and styles to suit everyone's taste. Flat weave carpets can make space in a living room, bedroom or even an aisle. Anytime you wish to change your room setting, you can just change the flat weave rugs or move it to a different place and your entire space will begin to look different. Adding to that, you can go for customizing flat weave carpets and pick your color, design and patterns and it will be created by our skilled artisans just as you thought it would be. Unlike some handmade Indian rugs, flat weave rugs are to have fun with. You can pick each element, be it color, fringes, tassels, patterns, material and try out different permutations and combinations to match your decor. Keep exploring different options of flat weave carpets online and experiment with never ending patterns and designs.
Flat Weave Rugs Shopping - Buy Small and Large Flat Weave Carpets Online from Jaipur Rugs UK
If you want large flat weave rugs to adorn your space but are not yet ready to make an investment then flat weave carpets or jute rugs are a great option to begin with. If you wish to buy large flat weave rugs online in UK to elevate your interiors then visit our website. At Jaipur Rugs UK, you can easily buy flat weave carpets for your home within a few clicks. Browse through endless options we have to offer which may certainly leave you spoilt for the number of choices. However, you can stay assured that only the best quality flat weave rugs will be delivered to you. Now, you can buy luxury designer area rugs online in UK with free shipping in top cities including London, Manchester, Liverpool, Bristol, New York, Nottingham, Cambridge, etc. In addition to that, you can make use of secure payment options like online payments and bank transfers while shopping large flat weave rugs online from us. After placing your flat weave carpets online order, wait for it to get shipped and you can keep tracking it online while we deliver it to your doorstep. Our job does not end once you buy flat weave rugs online in UK which is 100% pure handmade product. We also provide an end to end service related to your flat weave carpets. So what are you waiting for? Order your flatweave rugs online now at Jaipur Rugs UK and get free shipping in UK. Moreover, at Jaipur Rugs UK, we have a dedicated collection of cheap rugs for sale online which includes top quality rugs from across various categories.
Read More