You are on our United Kingdom website. Please select your region to see content specific for your location.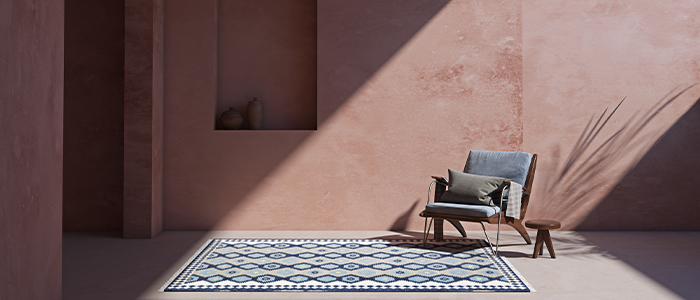 Flat Weave Rugs
Flatweave rugs from the collection of Jaipur Rugs will elevate the flair of your space with eye-catching patterns and designs. A flatweave runner and flatweave wool rug is the best option to amp up the overall flair. With over 1000 designs to choose from, you can buy black rugs, medium rugs, or geometric rugs for a contemporary flair.
Read More
Flatweave rugs have proven to be one of the creative additions to home decor. Whether it's a modern blue carpet enticing you or the traditional motifs, opt for flatweaves, as these promise to amp up the look of the space.
Available in different sizes, colors, and materials, you can either bring a flatweave wool rug home for warmth or pick a cotton design. Let's look further into what are flatweave rugs and different styles available.
What is a Flatweave Rug?
Flatweave rugs are thicker fabrics styling up the home. You can either opt to bring vibrancy with multi color rugs or keep it simple with neutral tones. A flat weave carpet is one of the smartest picks amongst rugs as these aren't only durable but pocket-friendly and easy to move as well. A flatweave grey carpet living room can easily be added to the bedroom, and it promises to exude a unique charm in every space.
Buy the Best Flatweave Rugs Online
A space can effortlessly be spiced up with flatweave rugs lying on the floor. It could either be a simple cotton flatweave rug or an intricately patterned design, the choice of the rug must complement the rest of the decor.
Jaipur Rugs offers one of the best flatweave rugs online with a collection ranging from simplistic designs by the Abrash series to eye-catchy patterns of the Indusbar designs. The Anatolia range lets you pick from a grey flatweave rug that serves as a perfect fit for the living room. Explore the variety and find flatweave rugs for your home that promise to add personality to the space.
Flat Weave Rugs Collection - Explore a Huge Variety of Flat Weave Rugs Online at Jaipur Rugs UK
Whether you're looking for a flatweave runner for the hallway or a kitchen rug, Jaipur Rugs offer premium quality along with their vibrant collection. From the Bedouin series of flatweave rugs speaking a traditional language to the modern Aqua range, there are a plethora of options to choose from.
From boldly colored carpets to a sublime grey flatweave rug, there's a wide variety to pick from. Along with the options of choosing the desired style statement, you can also select from flatweave wool rugs to jute carpets. Browse through the range and look for the most suitable match.
Why buy Flatweave Rugs from Jaipur Rugs UK?
Jaipur Rugs lets you choose not only the material but colors, designs, and based on sizes as well. From a sea of options available in flatweave rugs, each piece has a unique essence embedded within the pattern.
While the cotton flatweave rug from the Aqua collection is all about talking lines, the Heritage collection borrows a designer flair from the vintage patterns. Each design in flatweave rugs offered by Jaipur Rugs is about comfort and aesthetics.
FAQs about Flatweave Rug
Are flatweave carpets good?
Flatweaves in customized rugs can prove to be one of the best additions to a room, as these can be laid over a large area without much thickness. Flatweave rugs are the best picks for high-traffic zones of the house.
Where to place flatweave rugs?
A flatweave runner is the best fit for spaces like hallways and entryways as they welcome higher footfall. These thin oriental rugs can be added to any space that demands durability.
How do you clean a flat weave carpet?
A flatweave is extremely easy to clean. Just a little dabbing with soap water can get rid of the stains. You can also get the flatweave rugs professionally dry-cleaned.
Can you vacuum flatweave rugs?
One of the best advantages of opting for flatweave rugs is that these can easily be vacuumed to get a clean carpet.
Read More