You are on our India website. Please select your region to see content specific for your location.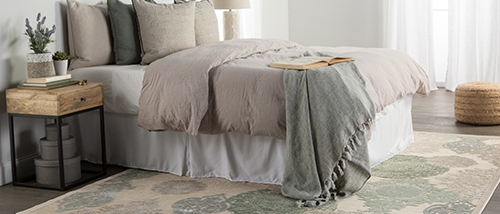 Bedroom Rugs
Bedroom rugs are a relatively easy way to add character and warmth to your bedroom. Place a carpet for bedroom floor underneath your bed. Fluffy rug for bedroom rug will anchor your furniture and provide a landing spot for your feet. You can also mix and match grey carpet bedrooms with jute rugs to add a touch of nature to your space. We at Jaipur Rugs have a wide range of green rugs and outdoor rugs from which you can pick the desired one for your space. Choose from 10000+ designs of soft rugs for your bedroom and make your room look appealing.
Read More
Bedroom Carpet
A bedroom's interiors can frequently appear lifeless and drab due to the hard floors' cold and unwelcoming charm. It is not sufficient to have a soft mattress or an upholstered couch with soft cushions to make it comfy. Carpets on the floor contribute significantly to increasing the warmth. Bedroom rugs that are stylish and attractive have the intrinsic ability to add a dash of coziness, comfort, and warmth! Furthermore, bedroom rugs offer the practical advantages of cushioning, warmth during the colder months, and noise absorption. Try out and explore a variety of bedroom carpets online, from minimalist to eccentric to traditional to baroque to flower carpets that would ideally match your decor.
Buy bedroom carpets online
One can buy bedroom carpets online from the comfort of their home in a matter of minutes. At Jaipur Rugs, we have an extensive range of carpets for the bedroom floor in various materials, designs, styles, and shapes to choose from as well. Furthermore, these carpets are easy to integrate into your home's design or to use as a striking contrast to it, so you don't have to worry about it. Even the carpet can be chosen primarily, and the other furniture can be arranged around it.
Latest bedroom carpet styles
The world of handcrafted soft rugs for bedrooms is vast. They can be broadly divided into three categories based on designs. Each handcrafted bedroom rug is distinct in its own way and has the power to instantly instill charm into your decor.
Modern:
Modern bedroom rugs are distinguished by their unique color schemes, designs, and use of minimal patterns. The artful carpets for the bedroom floor under the category are a great fit for both traditional and contemporary spaces. Jaipur Rugs also features a range of modern rugs in a variety of shapes, including round rugs and carpets in irregular forms.
Transitional:
Transitional rugs truly combine the best of both worlds by incorporating traditional rug design elements into modern color schemes, or vice versa. A little comfort and coziness are added to any bedroom along with the aesthetics of both traditional and modern. Grey carpets for bedrooms have remained one of the most popular options in the category.
Traditional:
Traditional rugs have remained a mainstay of fashion for a long time. They are a treasured possession and a cornerstone of most home interior layouts. These works of art were created by artisans who have been practicing this ancient art form and passing it down through the ages for generations. Any minimally furnished bedroom can gain a new dimension of character from the intricate details of traditional rugs.
Different types of bedroom carpets
You will run across many rug styles or a variety of weaving techniques while hunting for the ideal handmade rugs for your bedroom. Quality, design, price, and even their durability can all be determined by a technique.
Hand Tufted:
A canvas that has been stretched across a frame serves as the foundation for a hand-tufted carpet. Strands of yarn are punched into the canvas using a tufting tool to create the pattern that has been drawn on it. To complete the carpet, a fringe is frequently sewn or glued on. The manufacturing process of hand-tufted rugs is not as intensive or time-consuming. A hand-tufted rug is an excellent option if you prefer rapid turnaround times and frequently decorate your home on a budget.
Hand Loom:
On a loom, handloom rugs are created by weaving a weft between a warp that is held in place by the loom and a canvas backing. Their pile is low to medium. Felted textures, shag, organics or solids, and border rugs can take your room's design and comfort to a new level.
Different shapes of bedroom carpets
The difference in the shapes of a bedroom carpet can have a huge impact on the overall look and feel of the room. Depending on how big your plan for the room is, you may be looking for something as simple as a thin rug, or you may be set on your dream rug. No matter what type of space you are creating, there are two different types of bedroom carpets to choose from:
Rectangle:
Rectangular carpets are highly recommended for people who like to have consistency between rooms in their homes. They are a great pick for large bedrooms as well. By combining all the different elements into a unified, refined frame, they anchor the room's decor.
Irregular:
For a contemporary touch in your space, use rugs with asymmetrical shapes. Both an adult environment and a child's bedroom can benefit from the artistic, multidimensional fluffy rugs for the bedroom. These luxurious carpets might easily go with modern, contemporary, mid-century, or bohemian themes because of their unusual shapes.
FAQ
What carpets are best for bedrooms?
After a long day, many of us find that our bedroom is a welcoming haven where we can retire and escape the commotion of the rest of the house. The ultimate in relaxation is a soft, silky carpet that feels great underfoot. Woolen carpets with a higher or medium pile have an undoubtedly plush, cushioned feel. They are recommended best for bedrooms for their durability as well. Additionally, silk rugs give a depth of softness that tougher flooring frequently lacks.
What different materials are used in Bedroom Carpets?
The bedroom carpets are made using natural materials like wool and cotton. In addition to that, our bedroom carpets are a blend of wool, bamboo silk, and viscose. The organic feel of Jute and hemp also find their place in our bedroom rugs for your space.
What are the different sizes available in bedroom carpets?
Our bedroom carpets come in sizes 3x5', 4x6', 5x8', 6x9', 8x10', 9x12', 10x14', and 12x15'. In addition to these, there are oversized bedroom carpets available as well.
How thick should a bedroom carpet be?
Generally speaking, for bedroom carpet applications, choose padding that is no thicker than 7/16 inch and not thinner than 1/4 inch, with a density of 6 pounds per cubic foot.
POPULAR CATEGORIES
Kids Rugs | Rugs | Living Room Rugs | Prayer Rugs | Jute Carpet | Round Carpet | Outdoor Rugs | Runner Rugs | Shag Rugs | Floral Carpet | Modern Carpets | Grey Rugs | Tufted Rugs | Hand Knotted Rugs | Oriental Rugs | Handloom Rug | Pink Rugs | Black Rugs | Silk Rugs | Dining Room Carpets | Yellow Rugs | Geometric Carpets | Kilim Carpet | Multi Color Rugs | Large Carpets | Office Rugs | Orange Rugs | Stair Rugs |
Read More