You are on our India website. Please select your region to see content specific for your location.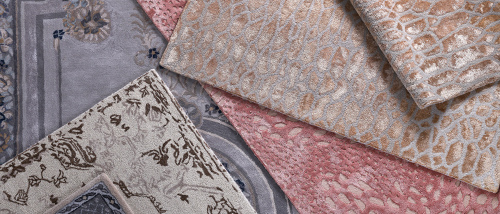 hand tufted rugs
Level up your decor a notch higher with a tufted carpet. The lightweight hand tufted rugs are ideal for all those who love to modify their decor often. In fact, hand tufted carpet is widely styled in a lot of settings for the same reason. Tufted rugs are hence easier to clean as well. Explore our diverse collection of tufted rugs that include traditional area rugs, flower carpets, kilim rugs, and a lot more.
Read More
Buy hand tufted rugs online at Jaipur Rugs
If you are looking for a tufted carpet for your space, rest assured that Jaipur Rugs is the only name you need to look at. With more than four decades of expertise in making the finest hand tufted rugs and hand tufted carpets, Jaipur Rugs is a globally recognised name synonymous with quality and design. Jaipur Rugs hand tufted rugs are made using premium materials and are skillfully woven by artisans from more than 600 villages in India. And not just tufted carpets, Jaipur Rugs also features the largest collections of jute rugs, woollen carpets, and runners with more than 10,000+ carpets online at Jaipur Rugs.
How are hand-tufted rugs better than machine-made rugs?
Machine-made rugs are significantly cheaper than hand-tufted rugs, so why shouldn't you opt for one? The answer is in the fact that hand-tufted rugs are better because they are made with great attention to detail. Hand tufted rugs are made more durable and so have a longer lifespan, they are high-quality artisanal made rugs, and come in various designs and textures. They are also unique in their design as no two hand tufted carpets can be the same. If you are looking to invest in tufted rugs, hand tufted rugs are surely a great option. At Jaipur Rugs we make a wide range of hand tufted rugs. No matter what your choice is, there surely is a hand tufted rug for your space.
How hand tufted carpets are created at Jaipur Rugs
The process of weaving hand tufted carpets can take many days or weeks, depending on the size and intricacy of the design. Hand tufted carpets are made by the use of a contraption called a tufting gun, which uses a mechanical process to loop yarns into a backing canvas. Hand tufted carpets can therefore have a pile as long as required. The pile, which forms the design on the hand tufted carpet can range from half an inch to a few inches, as per the required design. The hand tufted carpets at Jaipur Rugs undergo upto 17 finishing processes and multiple quality checks after they are woven so that they achieve the perfect finished look without any defects.
Benefits of hand-tufted carpets
Hand tufted carpets are a great option for your floors. They come with various benefits such as keeping your space insulated against the cold and muffling excess noise. Hand tufted rugs offer relief to the feet because of their soft underfoot feel. Hand tufted rugs can really bring the decor elements of a space together and make it look well-tied. And not only that, hand tufted rugs come in a range of designs and are magnificent enough to be artwork for your floors.
Hand tufted carpets go well with all types of floors. Hand tufted rugs can be used to match or contrast your floors with a range of designs. Apart from looking great, hanf tufted carpets can also protect your wooden floors and act as a grounding point for the furniture in your space. Small-sized hand tufted rugs can be used to delineate or designate the different areas in your space such as a cosy reading corner, dining area in living room spaces, or seating spaces in bedrooms.
Why choose Jaipur Rugs to buy hand tufted rugs
With years of expertise in making the finest handmade rugs and carpets, Jaipur Rugs is constantly on top of the latest trends in rug designs and trends. Jaipur Rugs uses high-quality yarns woven by skilled artisans from rural India to create premium hand tufted rugs. Each hand tufted rug is made with the greatest care and attention to detail to ensure 100% satisfaction of our customers. With services like multiple secure payment options, free shipping, and warranties on our tufted rugs, shopping from Jaipur Rugs is hassle-free. And it's not just hand tufted carpets that we make with the best skill. We have a huge inventory of more than 10,000 rugs including woollen carpets, outdoor rugs, and runners.
FAQ's about Tufted Carpet
What is tufted carpet?
Tufted carpets are made using a gadget called a tufting gun which loops the yarn into a backing fabric to create a design. The process of tufting is similar to filling color into a design outline on paper. A standard-sized hand tufted carpet takes a few weeks to weave.
How long do tufted rugs last?
Hand-tufted rugs last longer than their machine-made counterparts. These are made for medium-traffic areas and will last for years with regular use if maintained well.
Can you vacuum hand tufted rugs?
Yes. Hand tufted rugs should be cleaned regularly once every few days with a vacuum cleaner. For spills or stains, contact a professional.
POPULAR CATEGORIES
Kids Rugs | Rugs | Living Room Rugs | Bedroom Rugs | Prayer Rugs | Jute Carpet | Round Carpet | Outdoor Rugs | Runner Rugs | Shag Rugs | Floral Carpet | Modern Carpets | Grey Rugs | Tufted Rugs | Hand Knotted Rugs | Oriental Rugs | Green Rugs | Handloom Rug | Pink Rugs | Black Rugs | Silk Rugs | Dining Room Carpets | Yellow Rugs | Geometric Carpets | Kilim Carpet | Multi Color Rugs | Large Carpets | Office Rugs | Orange Rugs | Stair Rugs |
Read More