You are on our Australia website. Please select your region to see content specific for your location.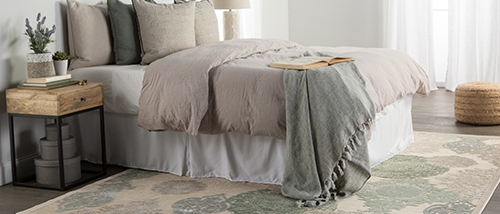 bedroom rugs
If you're looking to add a touch of creative style to your bedroom, designing with bedroom rugs isn't a bad idea either. There are so many different choices in bedroom carpets, ranging from simply attractive modern bedroom carpets to stylish floral rugs to colorful children's bedroom rugs to whimsical tufted rugs. You can also combine different types of custom rugs together to achieve a cohesive look for your bedroom.
Read More
Bedroom Rugs
If you want to infuse your bedroom with a touch of artistic style, incorporating bedroom rugs is a great idea. There is a wide array of options available, ranging from elegantly minimalist modern bedroom carpets to chic floral rugs, vibrant children's bedroom rugs, and charming tufted rugs. You can also experiment with combining different types of custom rugs to create a cohesive and visually appealing look for your bedroom.
When it comes to creating a relaxing and comfortable atmosphere in your bedroom, adding an area rug is a great idea. Whether you've already chosen ivory or grey rugs for your bedroom floor, there are various options to explore for a touch of calmness and coziness. Consider trying round rugs, traditional rugs, or transitional rugs to enhance the visual appeal. In colder climates, woollen carpets can provide warmth and cushioning underfoot, while in hotter weather, large jute rugs and bamboo silk rugs can add style and functionality.
Selecting the right rug for your bedroom is crucial as it can significantly impact the overall look and feel of the room. Take into account your room's color scheme and theme when choosing a rug. Additionally, a well-placed rug can help anchor floating furniture, contributing to a neat and organized appearance.
Decorate your interior with the luxurious bedroom rugs
Introducing layered textures in bedroom design is a deliberate choice that adds both comfort and visual interest. By placing soft throws on beds and layering bedroom rugs on carpets, you can create a luxurious and inviting atmosphere where you can truly relax. When deciding on the placement of your bedroom rug, it's important to consider the size of the rug you choose. Larger rugs can be used to define separate seating or dressing areas within the room, while smaller, more modern bedroom rugs look great next to beds or beside bedroom chairs. The use of rugs with soft textures, beautiful colors, and unique styles can breathe life into the most intimate spaces of your home. Bedroom rug ideas can vary from traditional fluffy sheepskin rugs placed by the bedside to solid-colored shaggy area rugs that entice you to curl up and enjoy a good book.
Explore a wide range of collections for bedroom carpets at Jaipur Rugs Australia
To enhance the style of your bedroom, you have the opportunity to experiment with various promotions and combinations when it comes to rug decoration. Jaipur Rugs offers a diverse range of handmade rugs that can bring a unique touch to your space. Whether you're looking for modern bedroom carpets, transitional rugs, or traditional rugs, you'll find a wide selection. Additionally, incorporating silk rugs can add a luxurious touch and provide a soft and comfortable feel underfoot.
Why choose Jaipur Rugs to buy bedroom rugs
With over 40 years of experience, Jaipur Rugs offers a remarkable collection of designs and patterns that are in line with the latest trends, allowing you to elevate the overall attractiveness of your space. With a selection of over 10,000 rugs and more than 1000 color combinations, you have a wide range of options to find the perfect rug for your needs. Additionally, Jaipur Rugs provides the convenience of free worldwide delivery and hassle-free returns, ensuring a seamless shopping experience.
FAQs about bedroom rugs
What type of rug is best for bedrooms?
You can go with wool rugs and silk rugs. And if you want durability with a soft texture, go with bamboo silk rugs.
Should you put a rug in the bedroom?
Yes, you should put an area rug in your bedroom because it will anchor your furniture.
How much does it cost to buy a good bedroom rug?
Our range of bedroom rugs starts from AU$340 to AU$6380.
Read More