You are on our Australia website. Please select your region to see content specific for your location.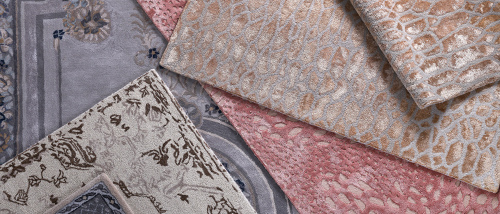 hand tufted rugs
Tufted rugs are area rugs created with a hand-held tufting gun. This procedure can generate a nice-looking rug that resembles a handmade oriental rug. At Jaipur Rugs store, you will find tufted silk rugs, area rugs & jute rugs to enhance the overall flair of your space. With over 1000 designs to choose from, we have the best hand tufted rugs that can blend with any style or decor.
Read More
Buy best tufted rugs online at Jaipur Rugs Australia
Looking for soft, luxurious tufted rugs? You'll find it kindly offered by Jaipur Rugs, a leading hand tufted rug shop in Australia, online, and across the globe. Tufted rugs are composed of a hand tufted weave made from all natural wool.
Jaipur Rugs is home to the best hand tufted rugs and tufted carpets that one can buy online. With fast, speedy shipping, Jaipur Rugs offers its customers a first-class shopping and shipping experience that is unmatched by any competitor.
How are hand-tufted rugs better than machine-made rugs?
Hand tufted rugs are often compared to machine made rugs in terms of quality. However, despite the speedy construction of machine made rugs, hand tufted wool rugs are superb when it comes to reliability and integrity. There is guaranteed durability with these rugs because the right materials are chosen from the start. They are structurally sound and built for eternity with their hand woven thread composition. With proper care, you should be able to enjoy your new tufted area rug for over a decade.
Explore a Wide Range of tufted rugs at Jaipur Rugs Australia
Jaipur Rugs produces and stocks hand tufted rugs that are luxurious to the touch. We offer a wide range of products such as oversized rugs, modern carpets, bamboo rugs, viscose rugs, floral carpet,and many custom tufted rugs. So, whatever your decorating needs may be, we have got you covered with the finest tufted carpet in the industry. Start your search today and filter by material, design, color, and much more.
Benefits of tufted carpets
Tufted rugs offer many benefits for their buyers. Firstly, hand tufted rugs are incredibly inexpensive. You can buy tufted carpets at a very low cost in comparison to other carpets made up of different materials. Next, unlike cotton rugs, the tufted carpet does not require a rug pad to be placed underneath. This highlights its durability and sustainability over long periods of time. Lastly, tufted rugs are a popular choice amongst our customers due to their warm, cozy, and intimate stylistic appeal.
FAQs
What is tufted carpet?
Tufted carpet is a type of handwoven wool rug created by an experienced artisan. This craftsman weaves the handwoven wool rug by pinning it to a canvas and stretching it to elongate the strands. Via the assistance of a hand-operated tool, artisans can stretch thousands of cotton strands to produce elegant and colorful custom tufted rugs.
How long do tufted rugs last?
These rugs, on average, last over a decade. As long as tufted rugs are placed away from high traffic areas and areas prone to spillage, they will easily last a lifetime in your home. In addition, if something were to mistakenly happen to your new hand tufted carpet, they are easily replaceable thanks to their affordable price.
Can you vacuum a hand tufted rug?
Like any other rug, hand tufted rugs can be cleaned with a vacuum. Vacuuming your hand tufted rug weekly preserves the durability and ensures the quality of the piece over time. Therefore, no special cleaning solutions or other is needed for your custom tufted area rug.
Read More