You are on our Australia website. Please select your region to see content specific for your location.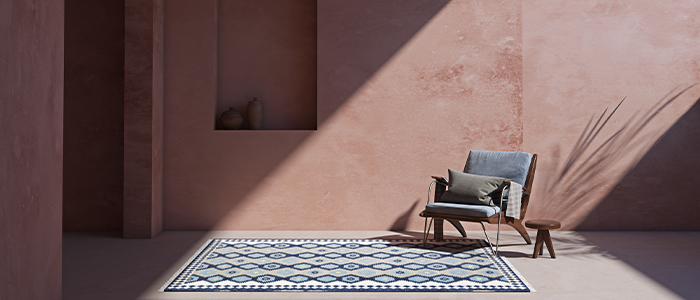 flatweave rugs
In essence, a flatweave is a thick cloth. They are mobile, durable and cost-friendly with a large range of weaving patterns, designs and colors. Extremely versatile, it can be used both indoor and outdoor and is even an easy travel partner.
What are flat weave rugs?
One of the oldest kinds of rugs to exist, flatweave rugs are versatile, extremely low-maintenance, come in a range of styles, and are lighter on the budget. They are created using a very simple weaving technique wherein no knots are included at all. In this case, threads are woven on a loom into colorful patterns, minus the pile or backing that is common on knotted or tufted rugs. In a flat woven rug, the parallel running fibers that comprise the warp (length of the rug) and the weft (fibers that run along the width make up the whole surface of the rug. It is because of this reason that a flat weave cotton rug or a flat weave wool rugs is lighter, more flexible, and reversible. Even in this weaving technique, there are plenty of older styles like Chainstich rugs from India, Needlepoint rugs, Aubusson Weaves, and Hooked rugs, exemplifying its benefits, both functionally and aesthetically. At Jaipur Rugs AU, we use this popular technique that has been used to create a number of rug types, and those include some of the most popular and bestselling pieces in our inventory.
Why choose flatweave rugs to decorate your home?
There can be a hundred reasons and more why you should pick flat-woven rugs when looking to revamp your home decor. But you only need a few to be absolutely convinced why there are an absolute must-have in every household.
Wide range in style: This popular and relatively less time-consuming weaving technique is a favorite amongst homeowners and interior decorators because of the plethora of styles it comes in. While flat weave rugs have been around for a while, it is also very easy to innovate them and contemporize them as per our present needs. So while you have Southwestern-style rugs with Native American tribal patterns or fringed rugs with a Middle Eastern flavor, on one hand, you also have more modern design rugs, geometric design rugs, abstract designs rugs. Every flat-woven rug is bound to add a casual charm and grace to a room, and you can find an array of contemporary designs with chic, modern patterns and colors here at Jaipur Rugs AU, designed to fit in with the most sophisticated and minimalist of interior designs.
Easily mobile: Since flatweave rugs don't have a pile, they use substantially less material and are lighter than other types of rugs like hand-knotted rugs and hand-tufted rugs in Australia. They also don't have a backing which lends them more flexibility, allowing them to be easily folded or rolled up for moving or for storing away for a while when you need to. If you don't have much help around rearranging furniture or simply like to change your home decor as per seasonal changes, flatweave rugs can be a great choice for you.
Lighter on the pocket: Perhaps one of their biggest pros is that flatweave rugs are relatively inexpensive. Despite being wonderful examples of fine craftsmanship, they take much less time to make than hand-tufted or hand-knotted rugs. This directly impacts their cost as well, making it a far easier investment than an oriental or Persian rug. So if you are decorating with a mood board but on a budget, we suggest you turn to a flatweave cotton rug or a wool rug to find just what you are looking for.
Easier to clean: A flat woven rug can be vacuumed without running the risk of pulling up loose threads and damaging the rug. The only thing you need to be careful about while vacuuming a light rug is to keep it anchored to the floor to avoid them slipping and shifting under a vacuum. You can also simply shake or beat the rugs to knock off loose dust or particles. Anyway, dust particles don't cling to flatweave rugs as much as they would to a high-pile rugs.
Why choose Jaipur Rugs Australia to buy flatweave rugs?
Jaipur Rugs Australia stands as the vanguard and the preserver of the age-old craft and styles of rug weaving, holding its weaver and artisan community at its core. Whenever you purchase a rug from us, you become a part of this endeavor to uphold India's rug weaving craft tradition by supporting its skilled artisans. Besides, we strive to make your online shopping experience at Jaipur Rugs AU seamless whenever you buy Indian rugs online. We offer discounts, free home delivery anywhere in AU, and also expert rug advice at the touch of a button. So, why look any further?
Read More