You are on our Australia website. Please select your region to see content specific for your location.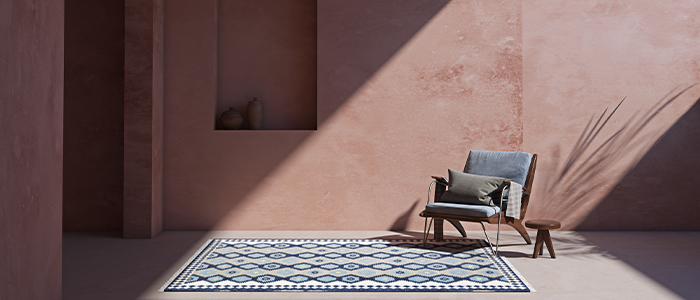 flatweave rugs
In essence, a flatweave is a thick cloth. They are mobile, durable and cost-friendly with a large range of weaving patterns, designs and colors. Extremely versatile, it can be used both indoor and outdoor and is even an easy travel partner.
Read More
What is a flatweave rug?
Essentially, flatweave carpet is merely a thick cloth that is mobile, durable, and cost-friendly. They are created by using a loom instead of being knotted. This results in the rug having minimal pile and instead has warp thread pairs, even with a wool flatweave rug. Flat weave area rugs are popular around the world because of their wide range of weaving patterns, designs, and colors. Similar to viscose rugs, flat weave area rugs are considered a cost-effective solution for homeowners operating on a budget.
Buy the best flatweave rugs online at Jaipur Rugs Australia
When searching for our premier flatweave rugs online, you will notice that our selection is diverse and dense with options. You can select from a wide variety of options such as flatweave wool rugs, cotton flatweave rugs, grey flatweave rugs, flatweave runners, and even a flatweave stair runner.
Not only are there tons of flatweave rug options online, but we also carry other rugs if you are looking for something a little different. Browse oriental rugs, jute carpets, general cotton rugs, and floral rugs if you are looking for extra spice.
Why choose flatweave rugs to decorate your home?
Wide range in style
Choose a modern, traditional, or transitional flatweave rug for your next space. Within each style, there are dozens of rug designs composed of neutral tones and contemporary hues that can add character to your room.
Easily mobile
An added benefit to flatweave rugs is their flexibility. You can easily roll the rug up or fold it and move it to another room if you feel it looks better elsewhere. There is no need to purchase an additional rug as flatweave rugs can easily move from room to room.
Lighter on the pocket
When rolling up your flatweave rug, you won't need a team of two to move it. These rugs are so light that all you need is to carry them to their next place.
Easier to clean
Not only is there a cost benefit to purchasing flatweave rugs, but there is also a cleaning benefit. These rugs are simple to clean. All they require is a monthly vacuum to prevent dirt from accumulating and they are brand new again. There is no need for special cleaning chemicals or to get your hands dirty when trying to clean it.
Why choose Jaipur Rugs Australia to buy flatweave rugs?
Flatweave rugs are handmade, which means it comes from our well-seasoned group of artisans. These craftsmen have decades of experience creating and curating the finest rugs all over the world. This means that you are purchasing top-quality flatweave rugs from Jaipur Rugs Australia. Your money is being put to good use when you purchase a rug online because it is sourced from high-quality material and built by professionals, not machines.
FAQ's
Are Flatweave rugs good?
Flatweave rugs are top-tier rugs. Their use case is extremely versatile, they are an easy travel partner, and they are durable for a lifetime.
Where to Place Flatweave Rugs?
It is ideal to place flatweave rugs either in a hallway or the living room. As a runner, they fit the motif of a hallway and can add a simple, lightweight appeal to the room. Since these rugs are also versatile, you may place them outdoors on your newly built patio to take them to the next level.
How do you clean a Flatweave rug?
Standard rug care is appropriate for a flatweave rug. You must vacuum it periodically, blot stains with warm water and a towel, trim loose thread at the base, and consult a professional carpet cleaning service yearly to give it a thorough clean.
Do Flatweave rugs shed?
No, flatweave rugs do not shed because they are handmade.
POPULAR CATEGORIES
| fluffy rugs | brown rugs | green rugs australia | abstract rugs | contemporary rugs | clearance rugs | carpets online | luxury rugs | large rugs online | bamboo rug | cotton rugs australia | black rugs australia | childrens rugs australia | red rugs australia | hand tufted rugs | beige rugs australia | multi coloured rugs australia | area rugs australia | navy blue rugs australia | custom made rugs | buy round rugs | solid rugs | oriental rugs online | floral floor rugs australia | hall runner rugs online | oversized rugs sydney | silk wool rugs | purple wool rug | buy jute rugs online
Read More